We were sent some Orchard Toys in exchange for a honest review.
I am always on the look out for a learning games for girls and boys. Having three children,I need something that will suit the older children and preschoolers.  Board Games are always a family favourite. A chance to spend some time together as a family. We have always been a fan of Orchard Toys. They are such a handy learning resources that young children really respond well to. We have been sent a whole bundle for my three to explore and play.
Here are a few of our favourites learning games for girls and boys
Rainbow Unicorns Board Game
Harriet was very excited to play with Orchard toys new game Rainbow Unicorn. The idea of the game is to race the unicorns over the rainbow, whoever reaches the pot of gold first is the winner.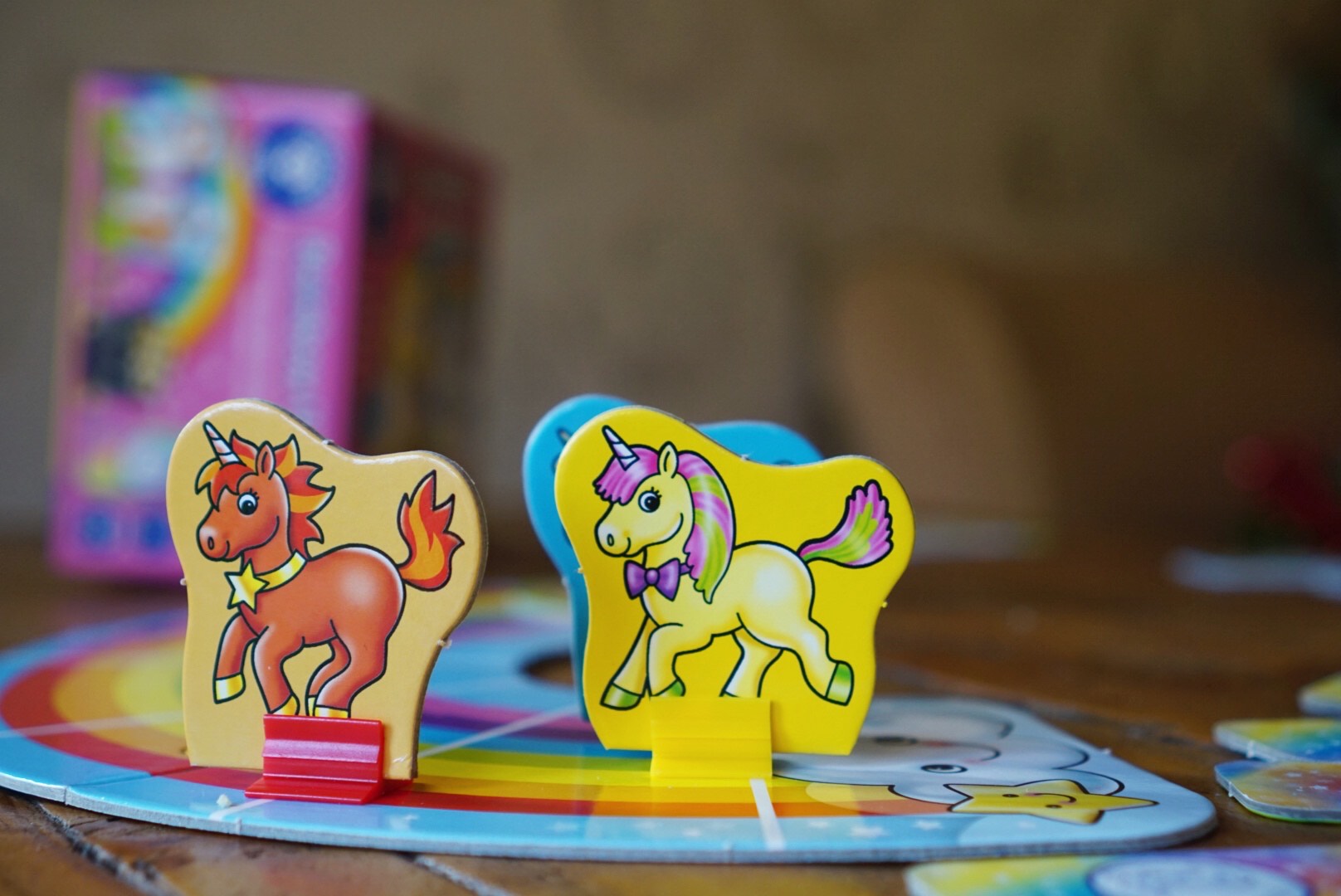 Rainbow Unicorns Board Game Instructions – How to play
In the box there are 50 cards, a mix of different coloured unicorn heads and unicorn tails. A rainbow jigged playing board, 4 different colour unicorn playing pieces.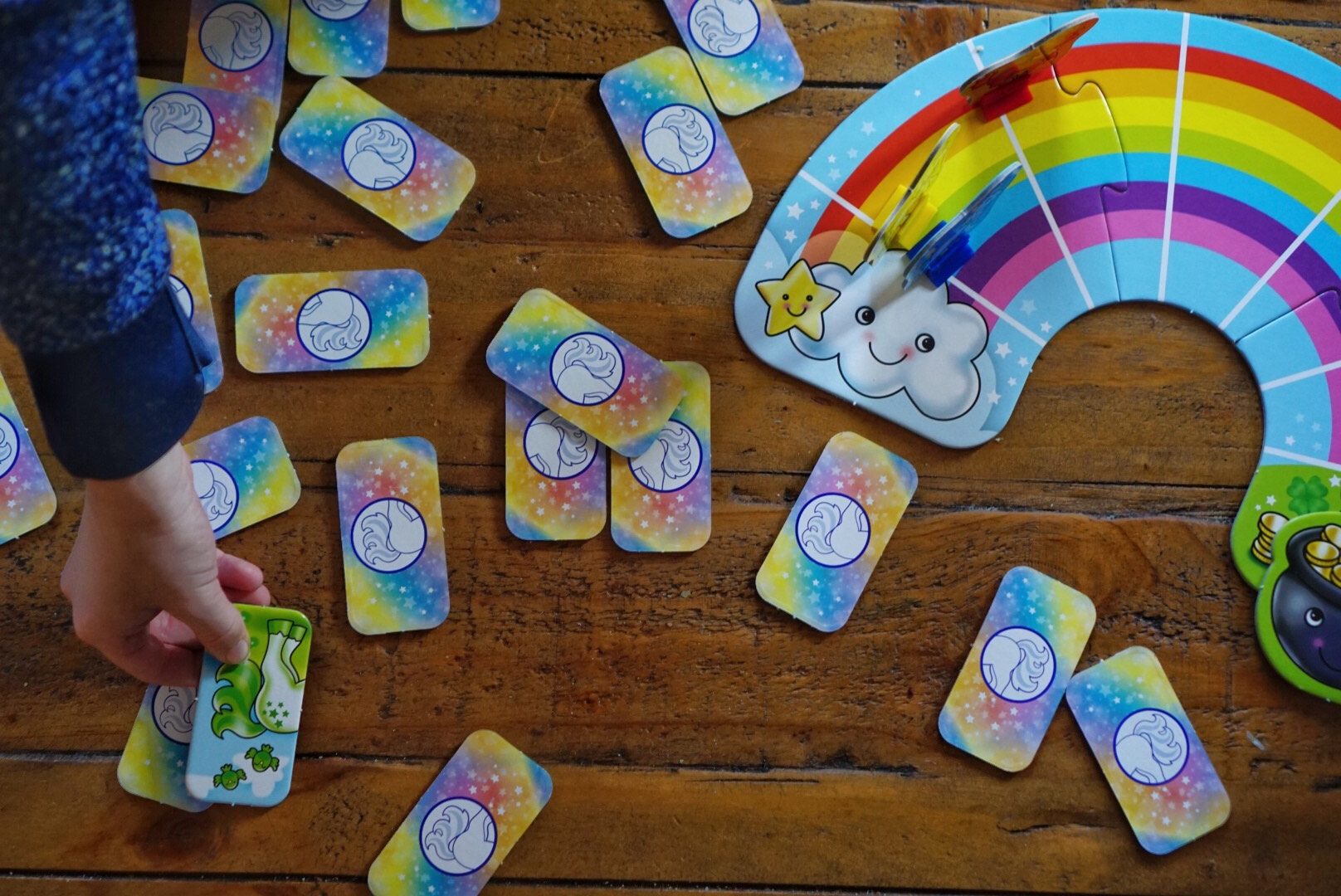 Following the Rainbow Unicorns instructions, we turned all the unicorn tails face down on the table so we couldn't see what they were. We then shared out 6 unicorn head cards out to each other. The aim of the game is to take turns to pick a unicorn tail card from the table and see if you have a matching head. If you do you match it and move your unicorn along the rainbow. If you don't have a match then you turn the card back again for the next player to try.
The person who's unicorns reaches the pot of gold at the end of the rainbow is the winner. The age range for this game states 3-5 on the box but my girls are aged 6 and 9 and they loved it. So much so that when they had some friends around a week later they got it out to play again.
For us, this game is perfect. It is simple to set up and easy to play. Time is limited and in the past we have had more complicated games, that by the time we have set it up or understood how to play it the moment has passed or Alfie is bored. We need something that grabs their attention straight away.
You can also play as pairs or even snap. The little box with its handle is easy to carry around with you. It was great for Alfie to practice his colours. It also helped with Harriet's (and mine!) memory skills. Rainbow unicorns has definitely been one of our favourites out of the Orchard Toys collection. It also cost just £8.25 on Orchard Games. A perfect stocking filler or one for the Chrismas Eve box.
If you child is more into dragons than unicorns. You can also buy this game in a Dragons and Knights theme. However at £8.25 you can even get both. We had such a fun time playing Rainbow Unicorns and it works well with older children
Farmyard Heads & Tails
This game is great for a child's early learning. What toddler doesn't like singing Old McDonald had a farm? This is the song we sing when playing Farmyard Heads and Tails. It is a great game to play to help you children recognise their farm animals.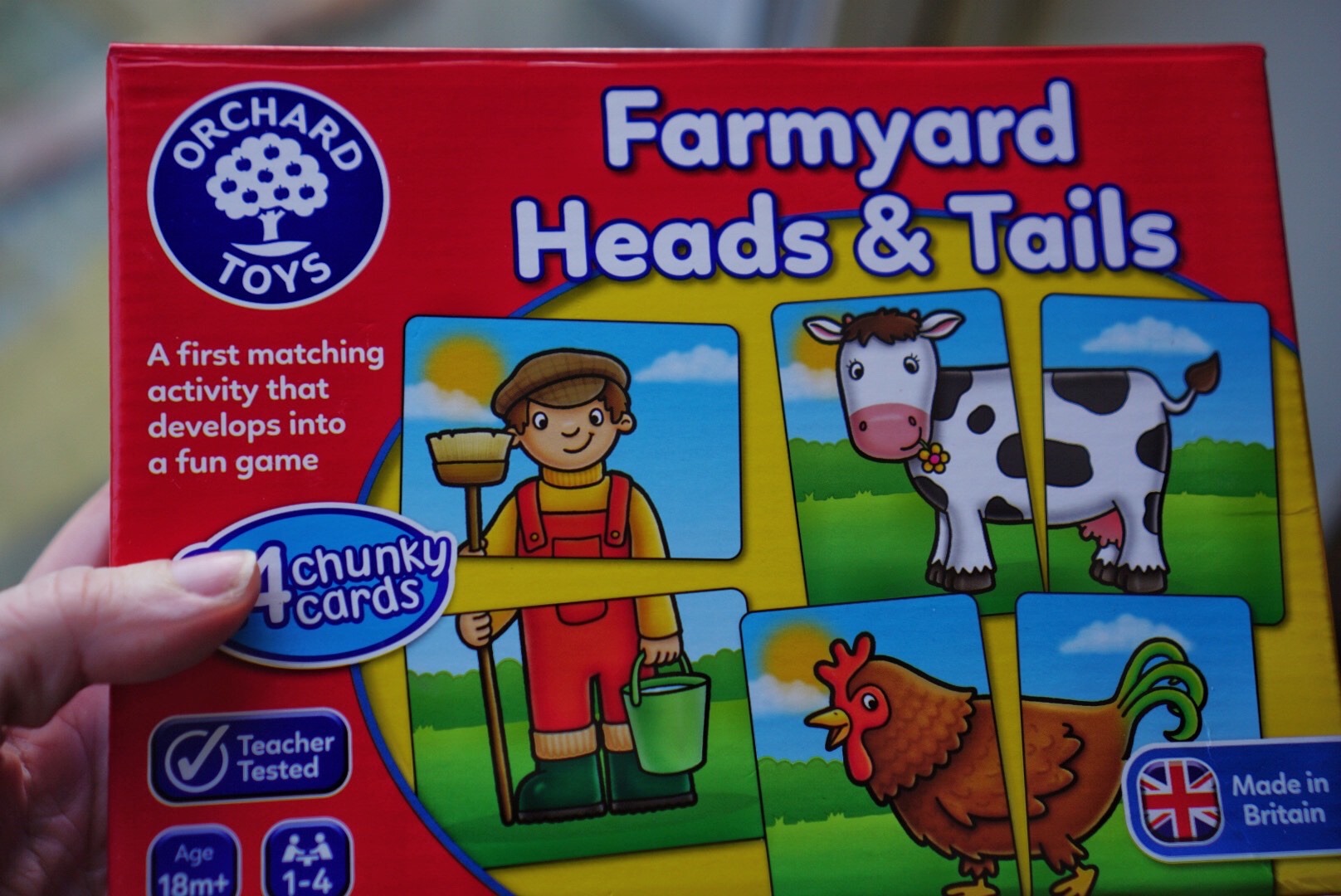 What is in the box and instructions
The box includes 24 chunky cards of animals heads and matching tails which are perfect for tiny hands. Really simple idea of matching the head to the tails.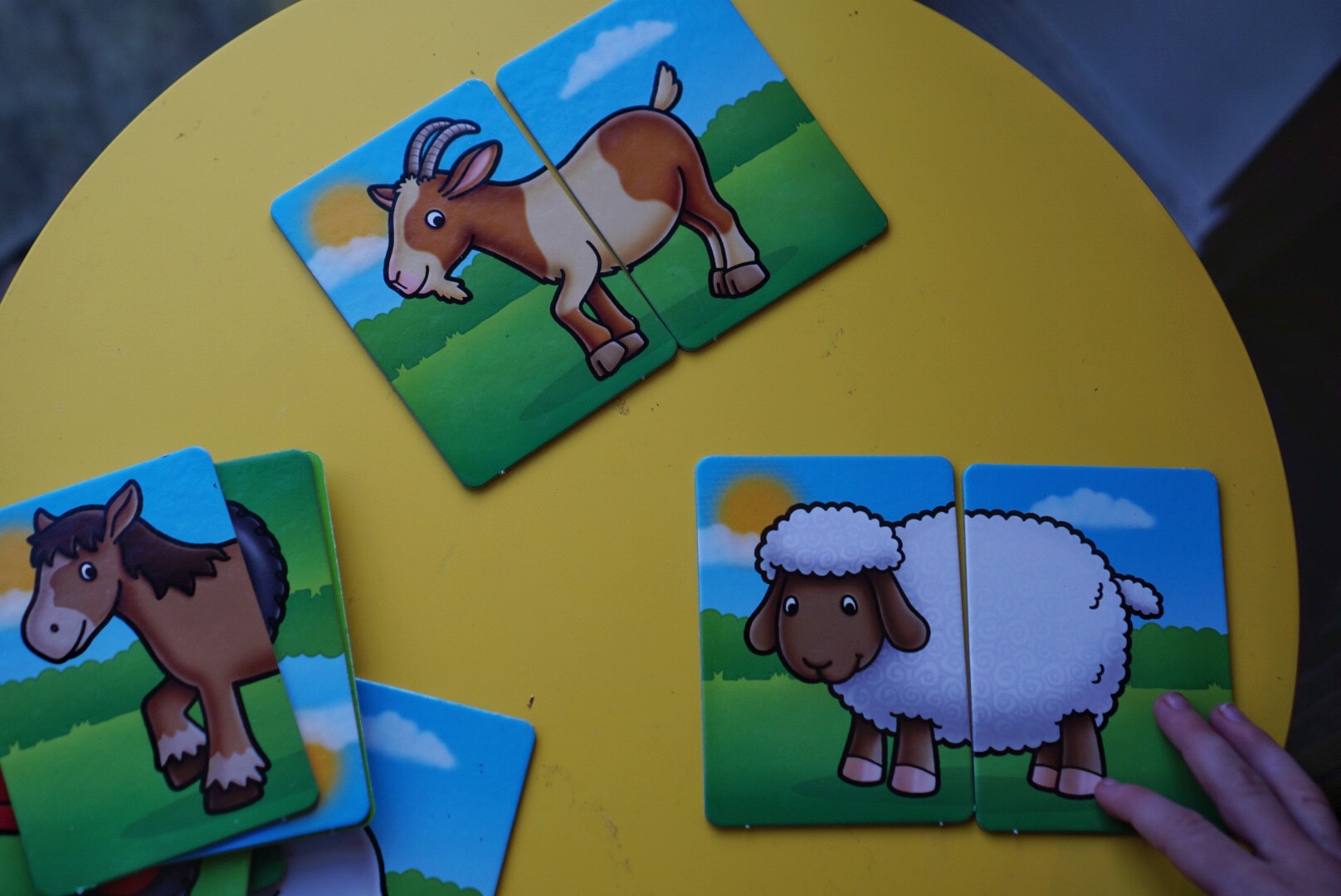 The game is full of adorable animals which Alfie loves. Before we received this game my friend had it. Whenever we visited her this is the first toy/game Alfie would be drawn too.It is a simple game but fun and great for learning. A game that I can pop into my bag when we go out to a restaurant. It also is a fun way to initiate discussion with your child. Me and Alfie find the animal, piece it together, talk about it's colour and the noise it makes. Learning through play.
Orchard Toys have lots of similar items to these so once you have master your animal, you can move onto Mummies and Babies matching animal families together which are really fun games. We have also discovered the Little Bus Lotto Mini Game which is an ideal memory game. Oh and don't forget to sing along to wheels on the bus whilst you are playing it. Can you tell we sing along to everything!
Giant Road Puzzle
Now this Giant Road Puzzle is pretty impressive. It is ages 3+ so we are saving it for Alfie's birthday later on this month. However my girls have been happy enough to try it out for us. It is huge, great for problem-solving skills and I love that you can change it every time you play. You can also buy additional junctions to keep adding to your road and even link the Giant Railway and Giant Town puzzles to it. I think this will be perfect in the Summer in the garden where the space is limitless. I know Alfie ( and my husband) will love this and I already have visions of Alfie whizzing around the roads with his toy cars. The Giant Road Puzzle is also a great way to encourage independent play.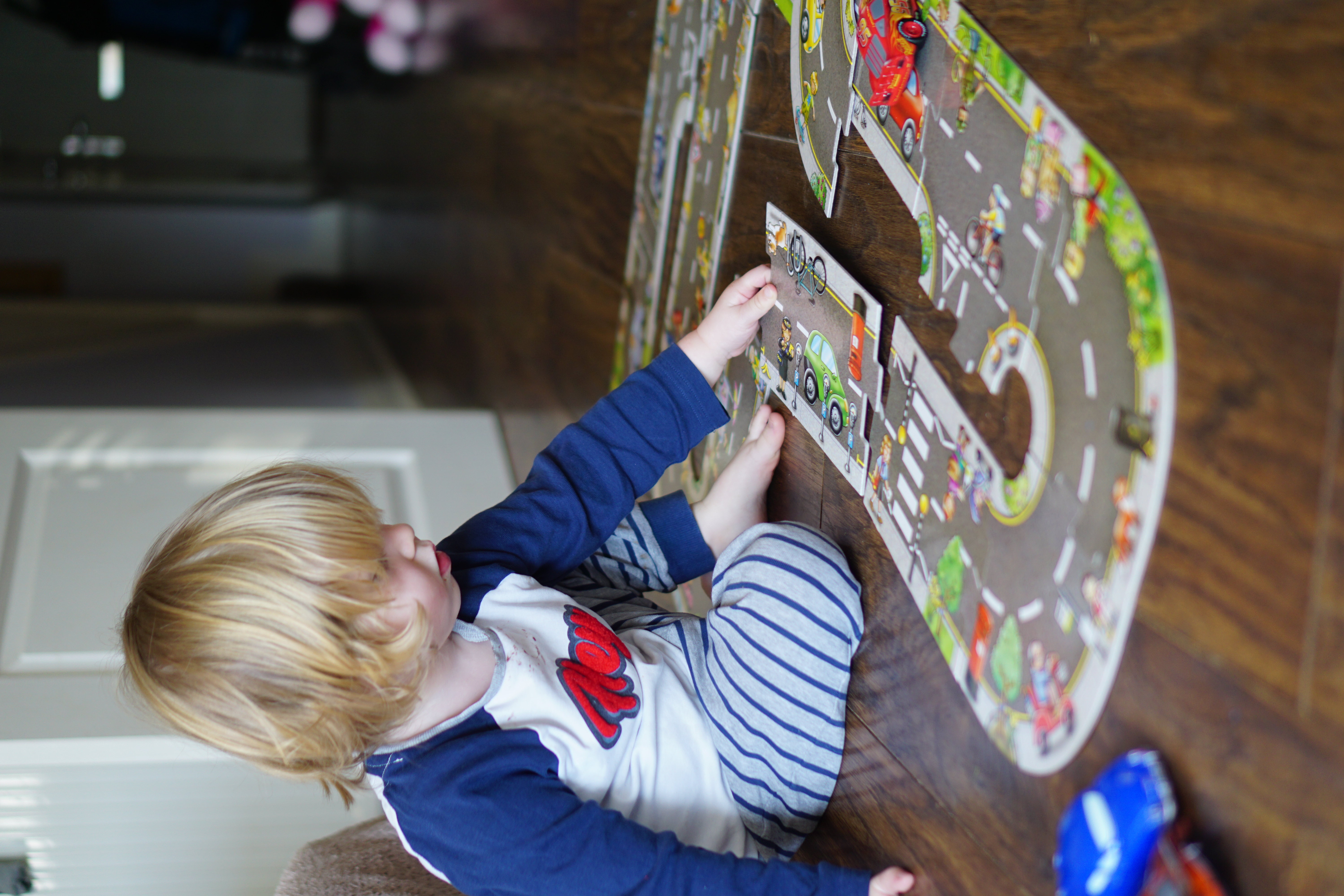 The range of different puzzle games and board games games available from Orchard Toys is vast. I was really impressed with how my children engaged with the product. Also the variation of different ways that you can play the products is such a great way of getting value for money. We will definitely be playing with our Orchard Toys for the foreseeable future.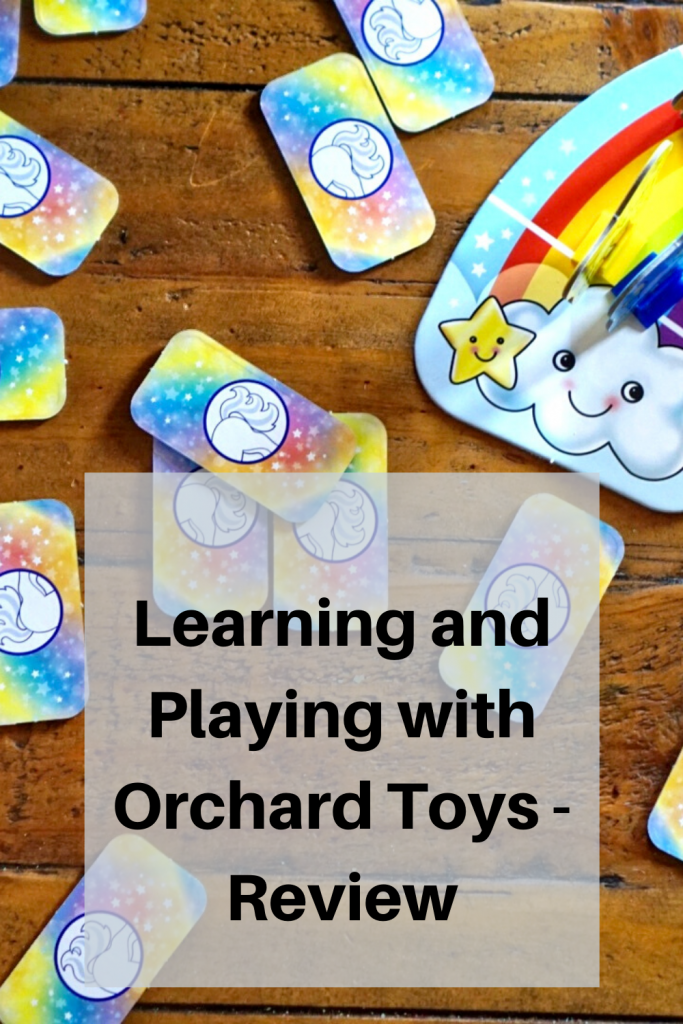 What learning games for girls and boys does you enjoy?