Christmas Eve is one of the most exciting days of the year. Every thing is ready, school and work is finished, the festive food is bought and the Christmas presents are all wrapped and under the tree. The whole house is ready for the next morning to see if Father Christmas arrives leaving a sack full of Christmas gifts.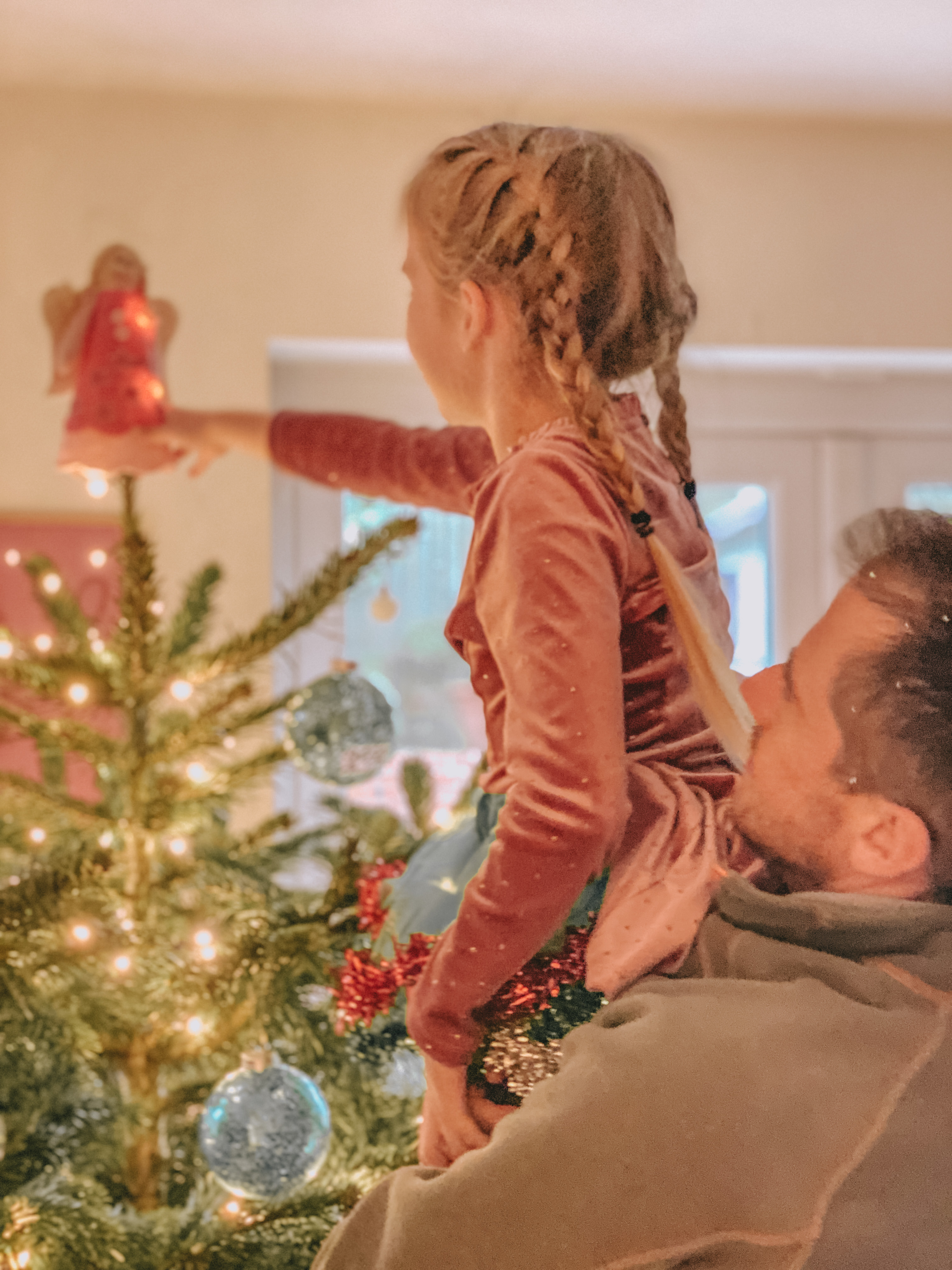 However as a parent I think you can agree that Christmas Eve can be quite a long day when you have very excitable children waiting for the big day so I aways think making some plans on this day always helps it go a little faster and also makes it more enjoyable.
I have such wonderful memories from when I was younger. Little special moments from Christmas eve that have stayed with me. The excitement of running into the street as Father Christmas passed on his sleigh. Watching Christmas TV together. Even that Christmas Eve bath and going to bed in new pjs and our hair in rollers so excited for the Santa. Nothing big, just memories that I remember from my childhood.
The last couple of years me and my husband have started to make few of our own Christmas traditions. So that our children have these special memories but also to help make Christmas Eve almost exciting as Christmas morning. The whole family now love it, and it's a day every family member looks forward to. Like my childhood, Christmas traditions don't have to be extravagant or expensive. Just little things that you do every single year that will make the run up to Christmas Day that little bit more exciting.
Here are a few ideas of some Christmas Eve traditions:
Christmas Eve Box
Of course a Christmas Eve box is nothing new, people including us have been doing a Christmas Eve box for years for their children, it is such a fun tradition. On Christmas Eve morning underneath the Christmas tree the elves have left a box full of treats. However my top tip is to think about what you are putting in the Christmas Eve box. I make sure that I fill my Christmas eve box with fun things that will help keep my children entertained throughout the day. Below are a few ideas:
New Pj's
A Family Game
Chocolate
Small Gifts
A Christmas Book
Get Baking
A lovely Christmas Eve tradition that your children will love. A gingerbread house is always a good idea at Christmas. You can even buy ready made gingerbread houses and just ice them together which is ideal for little kids.
In our house we always tend to make Christmas cookies which we then leave out for Father Christmas in the evening. We always have a great time making these and nothing tastes better than homemade cookies.
New Board Game
My children love board games and spending time together playing them. I always ensure I include a new board game that the entire family can enjoy in our Christmas Eve box. It is a great way to spend some quality time together. Just make the game isn't too long or complicated to play as those kids need a early night on Christmas! Orchard games are a favourite in our house, especially when our kids were younger.
Christmas Story
One of our favourite Christmas Eve traditions is a Christmas story at bedtime. A magical festive tale as you put your children to bed on Christmas Eve is a great idea, even for older kids. We read the same book on Christmas Eve night every year. However there are so many amazing books available during Christmas season, you could even add a new Christmas book to your Christmas Eve box.
Make Christmas Eve Plans
We started this tradition many years. On Christmas Eve we go for a long walk (mainly to tire out excited kids!) and we have some tea out and drinks. Then we walk home as it starts to get dark. The kids are excited, looking out for Santa Claus. It is just a lovely way to end the day. I know a lot of people have a tradition of going to the Zoo, midnight mass or even ice skating. Making plans that you continue to do every year give the kids something to look forward too. If you are looking for a little more inspiration then check out Experience Gifts, who offers many exciting ideas for Christmas.
It also makes the day go a little faster and keeps everyone active so they will hopefully be tired at bedtime.
Watch a Christmas Movie
I have fond memories of watching Santa Claus: The Movie on Christmas Eve with my family when I was younger. It was the perfect way to spend some family time together. Back in the 80's when I was young we had to watch whatever film was on the tv. Now with the options of Netflix and Disney there is a whole catalogue of Christmas films available. Choose your favourite (The Polar Express is ours) and settle down together with the Christmas lights sparkling and enjoy the special moments.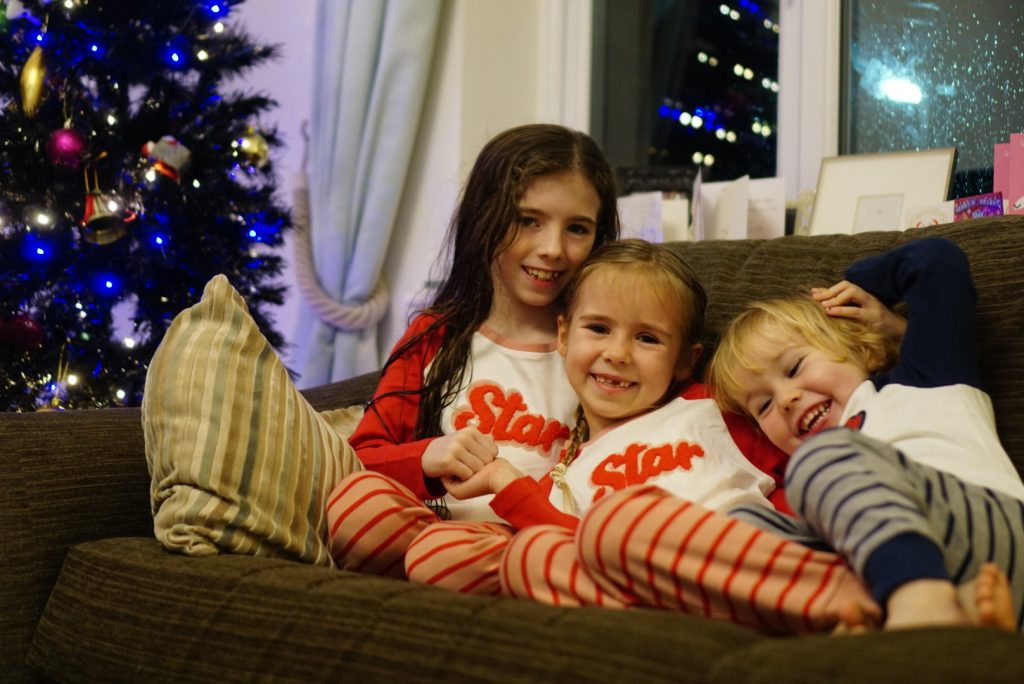 Fun Christmas Activities and Crafts
New activities always go down well in our house. Paint some Christmas ornaments, draw a Christmas picture for Santa. Encourage your child to write a thank you note for the Christmas presents. Put some of your favorite Christmas songs on and get creative.
Make Some Reindeer Dust.
Not forgetting Santa's reindeer we always leave some food outside for them before we got to bed (as well as a carrot next to Father Christmas' mince pie and cookies in the living room). We make our reindeer food at home and it consists of some dried oats, pumpkin seeds and raisons. We also add some cake sprinkles to add a little colour. We sprinkle this on our garden before bed. If you don't want to make your own you can buy some reindeer food online.
Do something Charitable.
Christmas is a time of giving so why not start a Christmas eve tradition of doing something charitable. It could be Christmas carol singing to raise money. Helping out in soup kitchens, taking selection boxes to the kids in your street. Or even just popping around to chat to a elderly neighbour. Christmas can be such a lonely time for some, so this would be such a lovely thoughtful tradition.
Christmas is such a wonder full time of year and I am always mindful that this Christmas magic doesn't last for long. I know as my children get older they won't be as interested in these Christmas traditions as much so I try to embrace the festive season as much as possible and make it as magical as I can. I know my children will remember these traditions forever and hopefully start them with their own families when they get older.