Easter is huge in our house, even with the older kids. It's not because we go anywhere grand or even buy anything special. The main reason my children love Easter is because we always have a visit from the Easter Bunny who leaves egg hunts for us to do in the garden. We have been doing an annual Easter egg hunt for as long as I can remember and it is so much fun and one of our favorite things to do
Here are some fun easter ideas and great things to do:
Plan an Easter egg scavenger hunt with a letter and clues.
The Easter Bunny always leaves my children a letter (which rhymes) along with some clues. The younger kids love this and it is great for the big kids to help them with. It brings so much excitement and a great way to encourage my children to read as much as possible (You know how much I love learning through play!)
The first Easter egg hunt clue is left with the letter from the Easter bunny along with some sweet treats. This clue leads to some chocolate eggs and another clue. They obviously get a little harder as the children get a little older to suit kids of all ages. When I was younger I always remember our parent's hiding eggs for us to find with out clues. it was just a mad frantic dash around the house which we loved but it also meant it was over in minutes. Leaving clues for them to figure out lengthens the hunt a little which is much more fun.
Here are some clue ideas for a Easter egg hunt:
'High and low, High and low, Remember I'm broke so you must go slow' (next clue hidden at the swing)
'If you're tired go sit down, at the place that goes round and round' (our outdoor table)
'Round and round, up and down' (our trampoline)
The clues can be as simple at that. Not too difficult as we don't want no tears!
Have your Easter Egg Hunt Outdoors
I realise this is not always possible for everyone but if you do have a garden definitely use it. Little kids especially love it. It prevents any eggs or easer gifts being found before the hunt even starts. Also it is just a little more exciting getting outdoors before breakfast, throwing on their wellies and watching them run around the garden trying to figure the clues out.
Whatever the weather our Easter fun treasure hunt is outside. I think we even had rain one year!
Make the Easter hunt fair
The last thing you want on Easter Day is argument about who has the most eggs.I have tween girls. My eldest is 12 so she generally the fastest to figure out the Easter egg hunt clues and find the Easter eggs. I make sure that in every hiding space there are 3 or 6 smalls eggs. That there are three different coloured eggs (their favourite colour if possible) for each child – these ones from Sainsbury's are perfect. It makes it fair for younger siblings and they automatically know which egg is for them. If you want to limit the sugar overload plastic eggs are a good alternative for the hunt ending with Easter gifts.
Put some Easter Decorations around.
I decorate for every occasion. Halloween, Valentines Day, Easter. Hang some bunting, make some bunny ears and face masks for the kids to wear, hang some sweets from the trees. I say this all the time but you don't have to spend much money. Have decorations and bunny ears just makes it feel more special. Also making Easter bunting can be a great craft that you can do with your children.
Get Involved
Whilst it is tempting to leave them to it, it's hard not to get caught up in the excitement. My children love us helping them during the Easter Egg hunt and seeing their excited faces it worth all the hassle of making clues and hiding eggs.
Have a surprise at the end of the trail.
We use little eggs throughout the trail and tend to have a surprise at the end of the Easter egg hunt. Mainly because they get so much chocolate from family we thought a little gift would be better. it is nothing extravagant at all and usually small toys, a book, board games or Easter crafts. It is an easy way to keep small children entertained on Easter morning.
I hope these Easter egg hunt tips are useful.There are so many fun easter activities and easter games to do. It can take a little bit of time and effort but the good news is that your Children will enjoy it so much. Oh and if you are not sure what to do with all that chocolate, then try out our Easter egg bark recipe– it's delicious!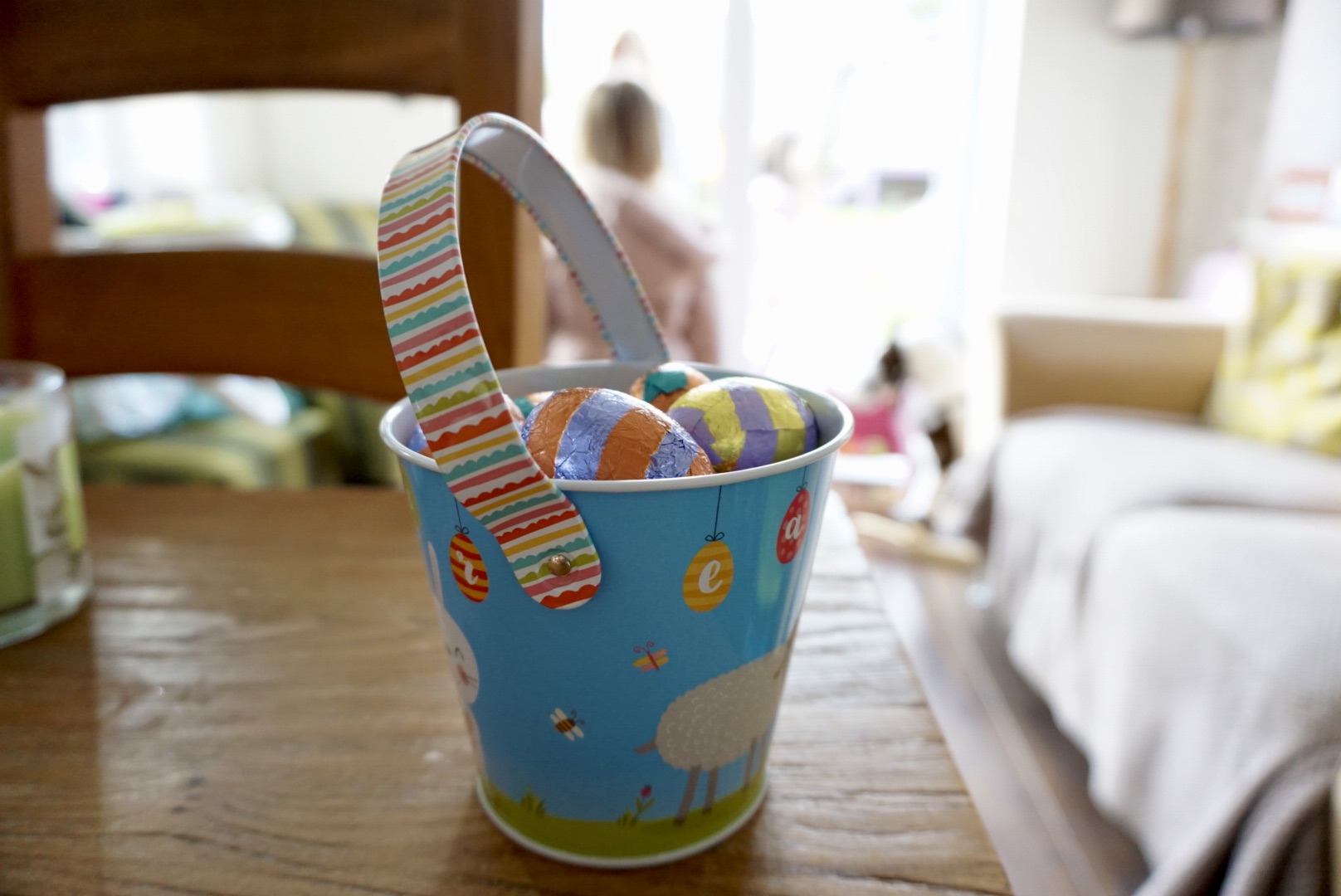 Do you do an Easter egg hunt with your Children?