All three of my children have loved Peppa Pig at some point. There hasn't been a Christmas when a Peppa Pig toy hasn't been on someone's list. This year of course it is Alfie's list. Now he is in preschool I try to buy fun interactive learning toys. I am huge advocate of learning through play and the following products have been a great aid for Alfie with practicing his numbers and learning his alphabet.Here are some of my favourite Peppa Pig learning toys.
Peppa's Phonic Alphabet
The Peppa Phonic Alphabet is a huge hit with Alfie. The phonic alphabet is in the shape of Peppa Pig which delighted him, he actually carried it around with him even when he wasn't playing with it. You also receive 8 interactive play cubes which have a letter of the alphabet on each side.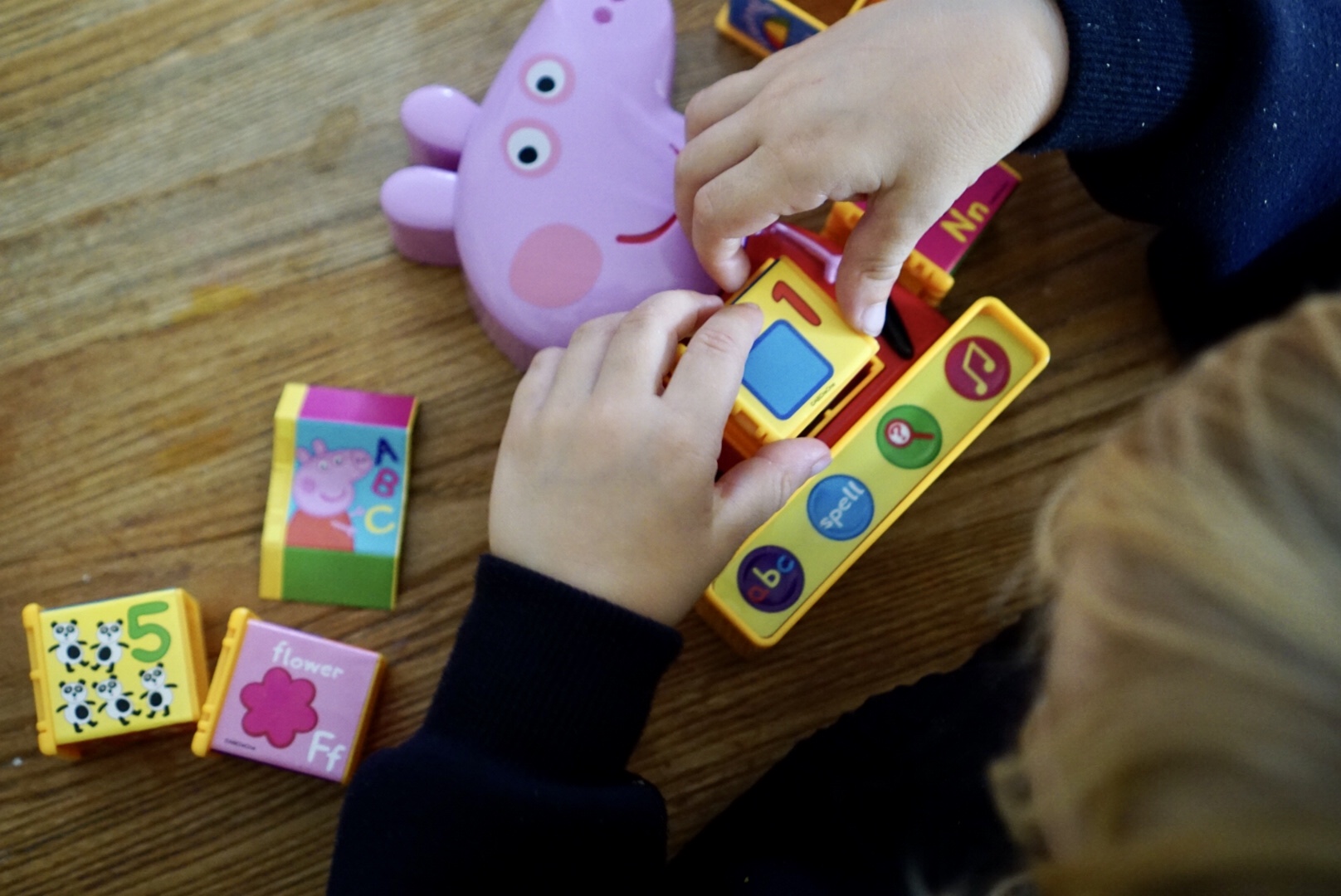 These are 4 different activity settings on Peppa Pig for your child to choose from. ABC, Spell option, a Quiz and Sing a long activity. Peppa will then ask a question depending on which activity you have chosen and you child then needs to find the correct answer on the cube and place in it Peppa's tummy. Peppa will then confirm if the answer is correct. There was so much excitement when Peppa started asking questions, and even more when Alfie answered correctly and earned a well done from Peppa.
The Peppa Pig Alphabet is such a fun interactive game. It is a great way to help improve your child's fine motor skills when trying to fit the cube into Peppa's tummy. I also found the game a really good way to help your child identify the alphabet and solve problems.
It also came with a small red drawstring bag to keep all the cubes together which also enables you to pop it in your handbag for when you are out and about.
The Peppa Pig Alphabet is now available from Amazon for £16.
Peppa Pig Laugh and Learn Laptop.
What child doesn't love a laptop. Alfie carries his Peppa Pig Laugh and Learn Laptop around and tells everyone he is 'going to work like Daddy'.
There are so many children's toy laptops available but this Peppa Pig Laugh and Learn one is definitely the best that I have seen. Firstly the colours are so vibrant. The button are big, chunky and colourful with some favourite Peppa Pig characters on them. The lid of the laptop has a huge 3d image of Peppa Pig jumping in muddy puddles on the front. Once you switch the laptop on and lift the lid you are automatically greeted with the familiar Peppa Pig music and instructions from Peppa to press a button. The buttons on the inside are again nice and big, perfect for little hands. They are all different shapes and colours with each one having a different number or letter on.
The Peppa Pig Laugh and Learn Laptop has 4 different activities to help teach numbers, letters, shapes and colours along with the Peppa Pig soundtrack. The laptop is full of fun sounds and Alfie really enjoyed taking instruction from his friend Peppa. This is a great learning aid for preschoolers and help with counting, co-ordination skills and basic vocabulary all whilst playing. Alfie had lots of fun playing with this.
The Laugh and Learn laptop is currently available from amazon for £14.96
Another great learning aid if the Peppa Pig Count with Peppa which looks so much fun and is definitely on our Christmas list. Peppa Pig asks the child to insert coins into her purse. Alfie would love this, he is forever putting coins in his money box. Count with Peppa includes 8 different activities to help encourage your child to count.
Have you tried any of the Peppa Pig Learning Toys?
I have been sent these Peppa Pig Learning Toys in exchange for a honest review.