As a parent I am always looking for ideas of Christmas presents for my children. My 3 year old boy is a huge fan of PJ Masks. There are so many PJ Masks toys for toddlers available it hard to know where to start. Being a Mummy of three we have played with a lot of PJ Masks toys and so we have wrote what our favourite PJ Mask toys recommendations are.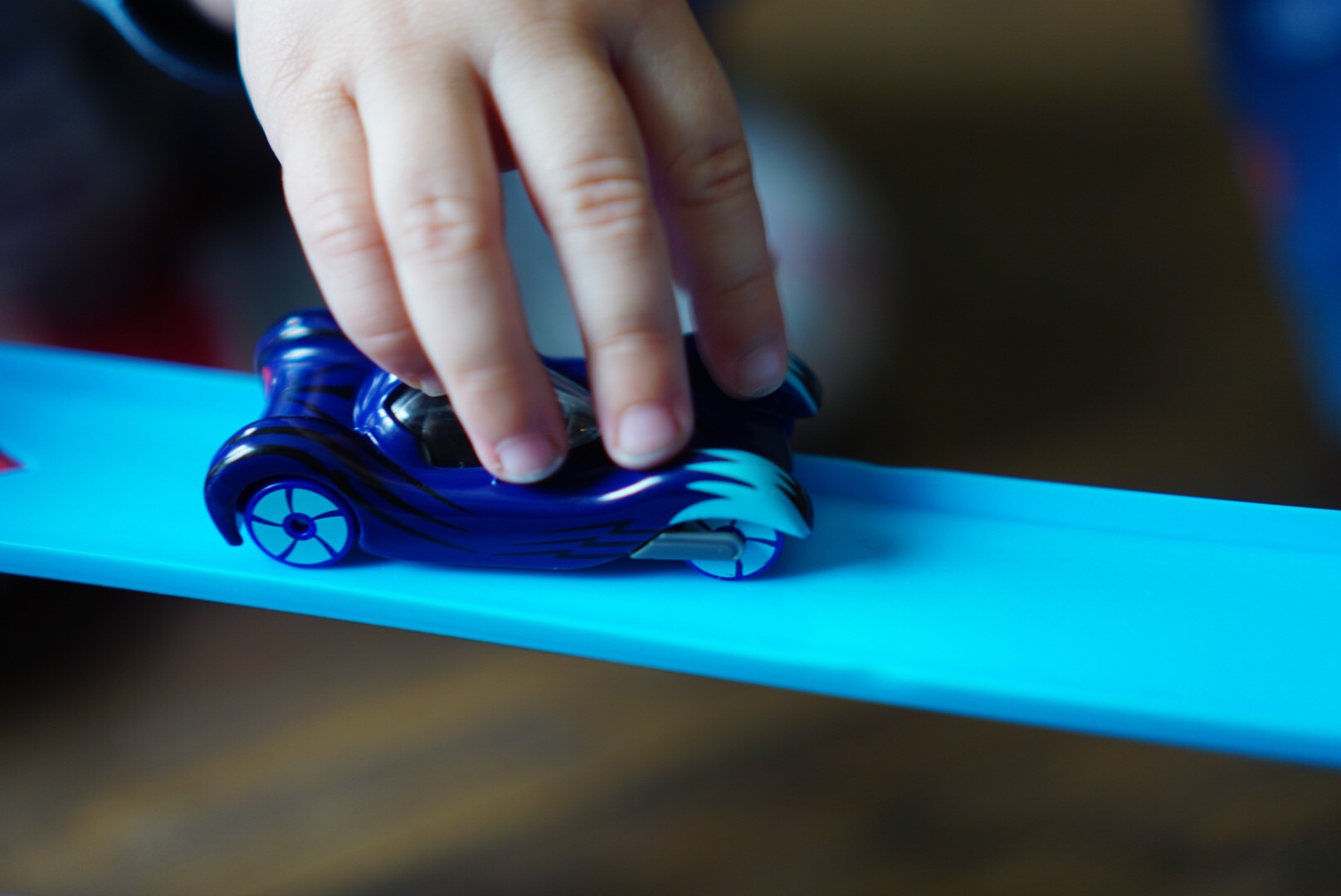 According to my little toddler the best PJ Masks Toy are The Headquarter Launcher and Save the City Trackse. As a Mum who notices what toys keep my child entertained the most and what toy generally get chosen more than the other toys I have to agree!
The Best  PJ Masks Toys for Toddlers- The Headquarter Launcher
The PJ Masks Headquarter launcher is our ultimate favourite out of the PJ Masks toys. The set included a clamp, a track, a headquarters building which includes height adjustable lift and track connector as well as three opening doors. This is all in addition to a Die-Cast PJ Masks vehicle.
The set is really easy to use. We attached the track to a table with the clamp provided and set the headquarters building on the floor allowing the track to drop vertically. You then place the PJ Masks vehicle at the top of the track and watch it fall down to come through one of the doors in the headquarters. Really simple idea but lots and lots of fun for all 3 children. We had squeals of delight from Alfie as he watched cars fly through the doors. Many of his other cars fitted on the track which was good, as he has a habit of misplacing things.
The Best  PJ Masks Toys for Toddlers – Save the City Trackset
Next we tried out the PJ Masks Save the City Trackset. Again, really easy to set up (which is needed when dealing with little impatient ones). We placed the track on the ground and set up PJ Mask villian's Night Ninja Splats and Romeo's Robot along the track. The idea is to launch the PJ Mask vehicle (you also receive one with the set) with the pull back elastic launcher. Then watch it shoot along the track defeating the villains along the way. Alfie loved watching the car shoot along and again we had lots of fun together playing with this track.
These sets are perfect for little car lovers and PJ Mask fans. For us, if we had to choose just one, it would be the Headquarter Launcher. It kept Alfie entertained for ages. He loved watching the cars drop along the track almost hitting the floor.
What are your best PJ Masks Toys for Toddlers?
We received these PJ Masks toys free of charge in exchange for a honest review.