We try to go on as many family adventures as possible. Exploring our beautiful country and spending time together in a different environment gives us much enjoyment. As parents it is important that we encourage our children to spend as much time outdoors as possible. Which is one of the reasons a glamping trip with Featherdown appealed to us so much. As a family we have never been glamping before so we have been so excited for our trip.
My youngest is three and very spirited and whilst I know many people with young children camp, I have always preferred to book a caravan or a lodge. Glamping sounds like the perfect compromise. With the excitement of sleeping in a tent, lighting a fire and using candles for light but still with the luxury of separate and private areas, beds and more importantly a toilet!
Introducing Featherdown
Featherdown has a range of different sites available depending on where you want to stay. We decided to enjoy our first time glamping in Wales at Pant Y March Farm which is situated in the Mountainside overlooking Lake Bala which is one of the largest lakes in Wales. We live just over an hour away from here so it was the perfect place to visit straight from school on a Friday and stay for the weekend.
On the morning of our arrival date I received a text from the people who owned the farm welcoming us and providing us with some useful information regarding our stay and details of the local area. They were also on hand to help when we got lost trying to find the venue.
On arrival at Pant Y March Farm
We were met by the owner who showed us where we were staying and helped us start the fire and where to get the wood from. We were introduced to Jess the dog who my children were delighted with and kept them entertained for ages. (I should also add that my children are usually petrified of dogs but Jess was so lovely and playful they loved her).
Throughout our stay there were lots of personal touches from the owners that made the stay so special. From the farm walk they took us on, to the recommendations of places to see, they even warmed the hot tub for us because they knew the children were desperate to go in it. They are such warm welcoming people that you felt like you were friends staying in their home for the weekend. A lot of places lack this and I believe that it made such a difference to our stay.
The Camping Area
The glamping area at Pant Y March consisted of two canvas frills lodges. The lodges/tents are pretty amazing inside. There is a couch, a dining table, a stove/fire, an area to prepare food and a sink. I wasn't sure what utensils would be there – however there was everything! Plates, bowls, cups – everything you would find in any other accommodation. There are also candles and oil burners to light up the rooms.
The lodge has four different rooms. One being a small toilet and the other three being sleeping areas. One area which is separated from the main room with a curtain has bunk beds inside. The other room which was also separated by a curtain consisted of a double bed.
The final sleeping area is a cupboard. My girls loved this space. It has two openings.Doors to the main tent area and doors that opened into the area with the double bed.   I expected the cupboard to be a small area but in reality it was quite big and both girls ended up sleeping in there together comfortably. A separate shower area is outside of the lodge.
The lodge is so impressive. There is plenty of room for a family of five. Our lodge also included a hot tub with some amazing views. This is heated the same way as the stove using firewood.
The Site
The fact that there is only one other lodge in Pant Y March makes the site really small, personable and safe. I think what my children enjoyed the most is the freedom this experience gave them. There are no busy roads in Pant Y  and only a few people roaming around, we allowed the girls to explore alone. To pop to the swings without supervision. Each morning they would go to the chicken hut and collect eggs for breakfast. These little snippets of independence which they relished and I as a parent felt comfortable with.
Pant Y March had a honestly shop on site which had some essentials in including candles in you ran out.
Pizza Night at Pant Y March
The owners organise a pizza night. You have the opportunity to make your own pizza in the great outdoors using a pizza oven. This is at an additional cost of £40 per tent. You don't have to join in with this and  I deliberated about it at first. I thought it was a little expensive (my children don't eat all that much) however we decided it would be a nice way to end our trip so we did. It is great, the kids enjoyed it, the pizza is delicious and we sat outside in the sunshine chatting with the owners.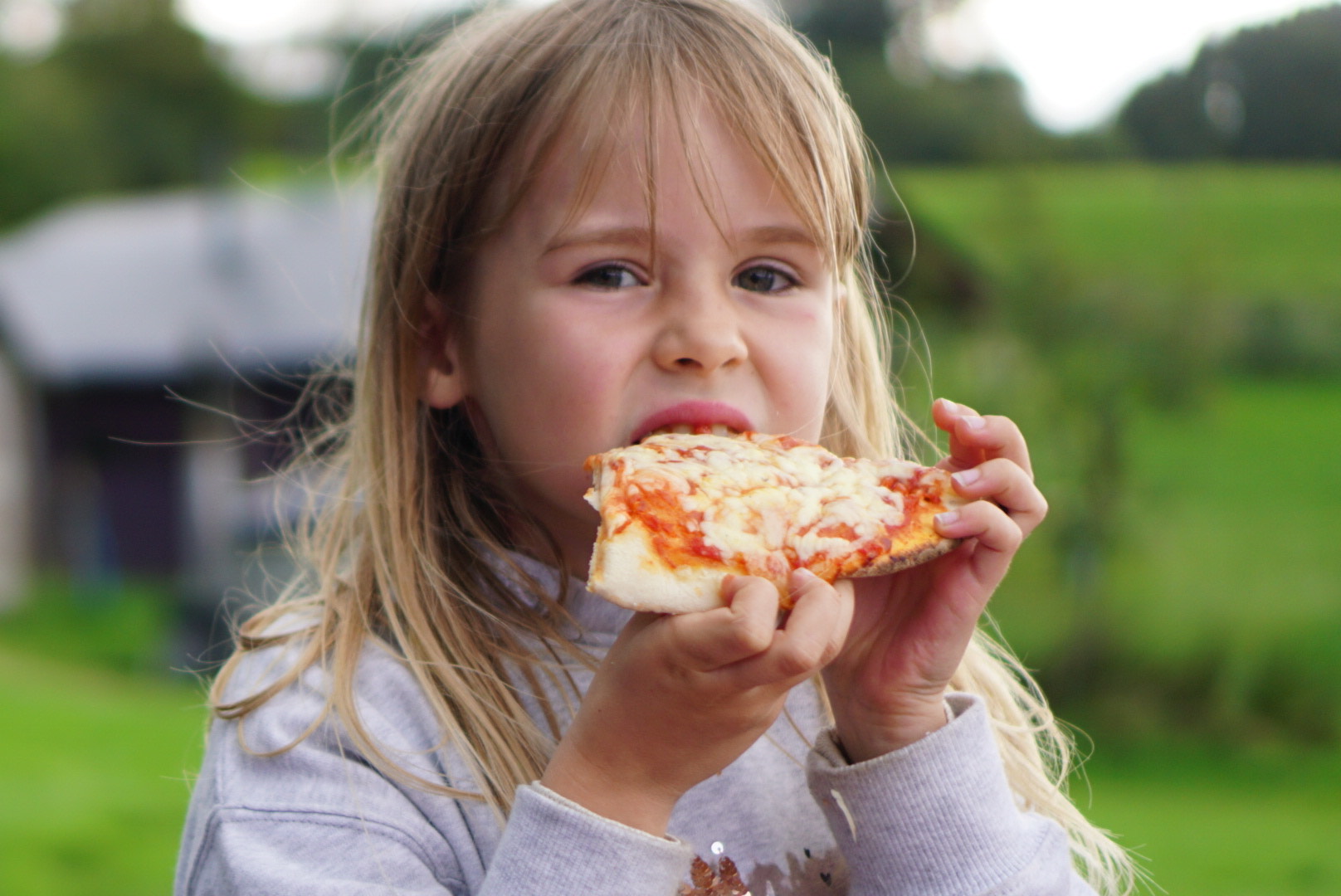 The kids played around the fields with the dog. It was a completely different experience to sitting in a pub frantically finding something on your phone that the kids can watch whilst you try and eat. It was liberating and free and we all felt so grateful for the experience. The perfect way to end our weekend at Featherdown.
Glamping at Featherdown was a great experience. A good way for your children to experience the outdoors a little more. No television, no laptops – but exploring and getting your hands dirty. Laughing and chasing the animals. Collecting firewood and snuggling to keep warm. Spending time together as a family. Enjoying the wonderful UK.
Have you ever tried glamping? I would love to hear your thoughts about it?
( we have had the opportunity to stay in this venue free of charge in exchange of a honest review)