Another week, homeschooling week 9. It has been noted that the longer the lockdown goes on for the less productive our days seem to be getting. This week was also mental health awareness week. Seeing lots of people talking about mental health awareness on social media definitely made me think about how we are al feeling.
We are still doing some homeschooling each day but I think at the moment I am more concerned about ensuring my children are happy during this strange period rather than how they are doing academically. As the weeks go on we are getting more restless and ready for some normality  and our friends.
That is not to say we haven't enjoyed homeschooling. We really do. It's been fun watching my girls learn. There is nothing better than when they are struggling with a subject and then it finally clicks in their head. A lightbulb moment.
Harri has been learning about Chronological reports. She has lots of fun doing a spider diagram for her favourite animal pigs. She also created a collage on Pic collage from her Spider diagram. Harri is very creative and she loves doing this kind of work. In Maths she has been learning about movement. She completed a few worksheets on it. However going in the garden and doing some practical work around movement definitely works better for Harri.
Me and Alfie have been doing some work on recognising shapes. Drawing different shapes with chalk in the garden and encouraging him to identify them.
Meme is continuing with her work with school. The girls have both been setting up their own business. My little entrepreneurs have been creating logs and making business cards on Canva. Which is an amazing skill. Again practising their spelling, sentence structure and design skills. Learning through play is so much easier to get the girls excited about learning.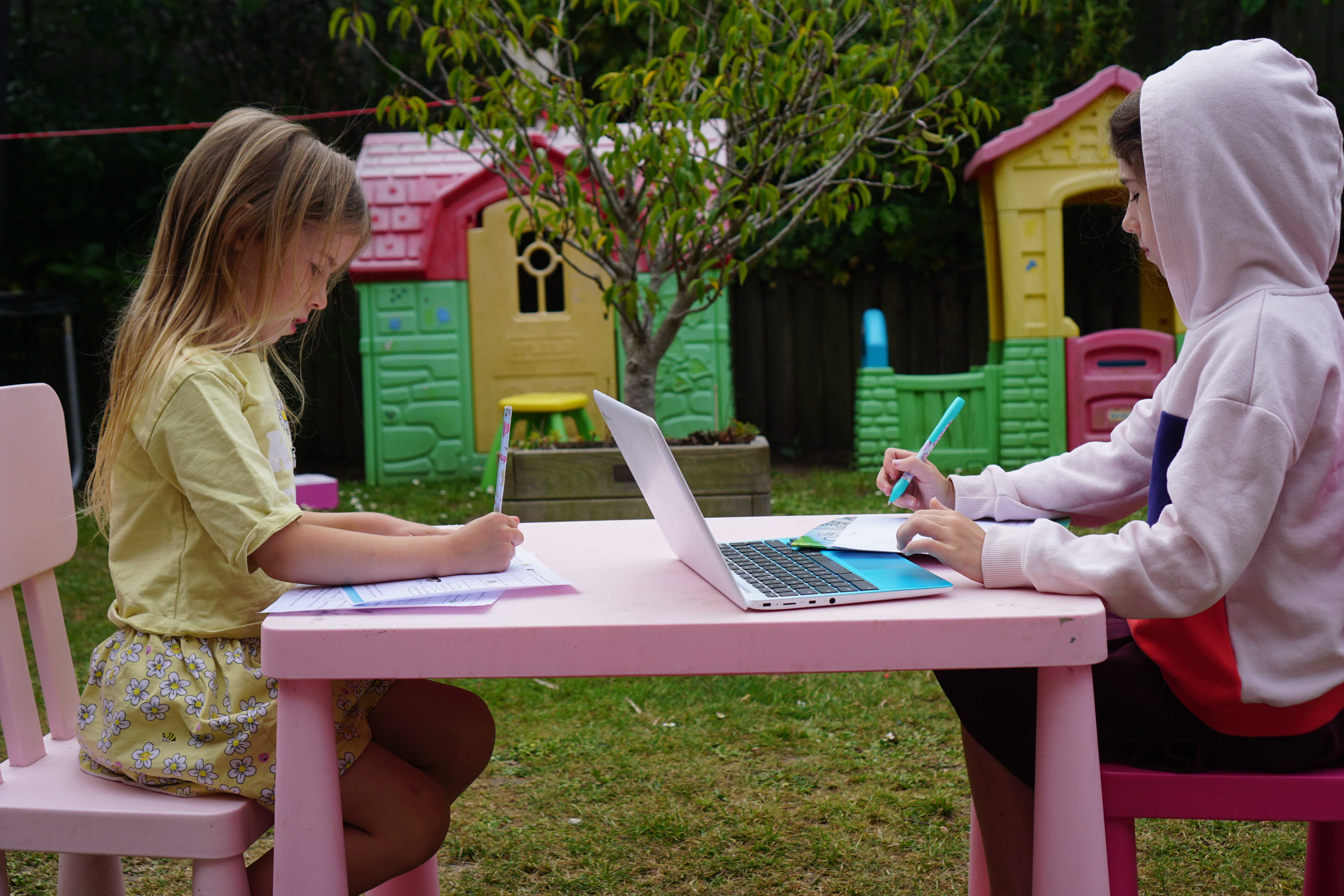 I am trying harder to spend a a little bit of time with each child individually talking through their work and helping them. They definitely flourish with this attention.
We have had lots of water fights in the sunshine and we sat talking one day making daisy chains. These moments are just as important as any spelling test or school work is. Talking about how they are feeling and ensuring that they know this stage wont last forever. Their mental health is so important and I feel that at the moment Meme especially is feeling the strain a little.
Homeschooling week 10 is half term. I think we will still do a little bit of work. Our days seem to run a little smoother when we have some structure.
How are you getting on?