I always believe that the best way for a child to learn is through play. Especially during the younger years. Peppa Pig is such a big favourite and familiar face with both boys and girls which is why I am a huge fan of their learning toys. They also make great Christmas gifts. We have been sent the Count with Peppa, Peppa's Phonic Alphabet and Peppa's Flip and Learn Phone to review and here are our thoughts. I should add that although the Peppa Pig toys are aimed at toddlers and preschool children my 5 year old boy still loves Peppa Pig toys.
The Peppa Pig Phonic Alphabet is aimed at children ages 3 and over. You receive a Peppa shaped alphabet with a square shaped whole in the middle of his body and 8 cubes with a letter of the alphabet on each side.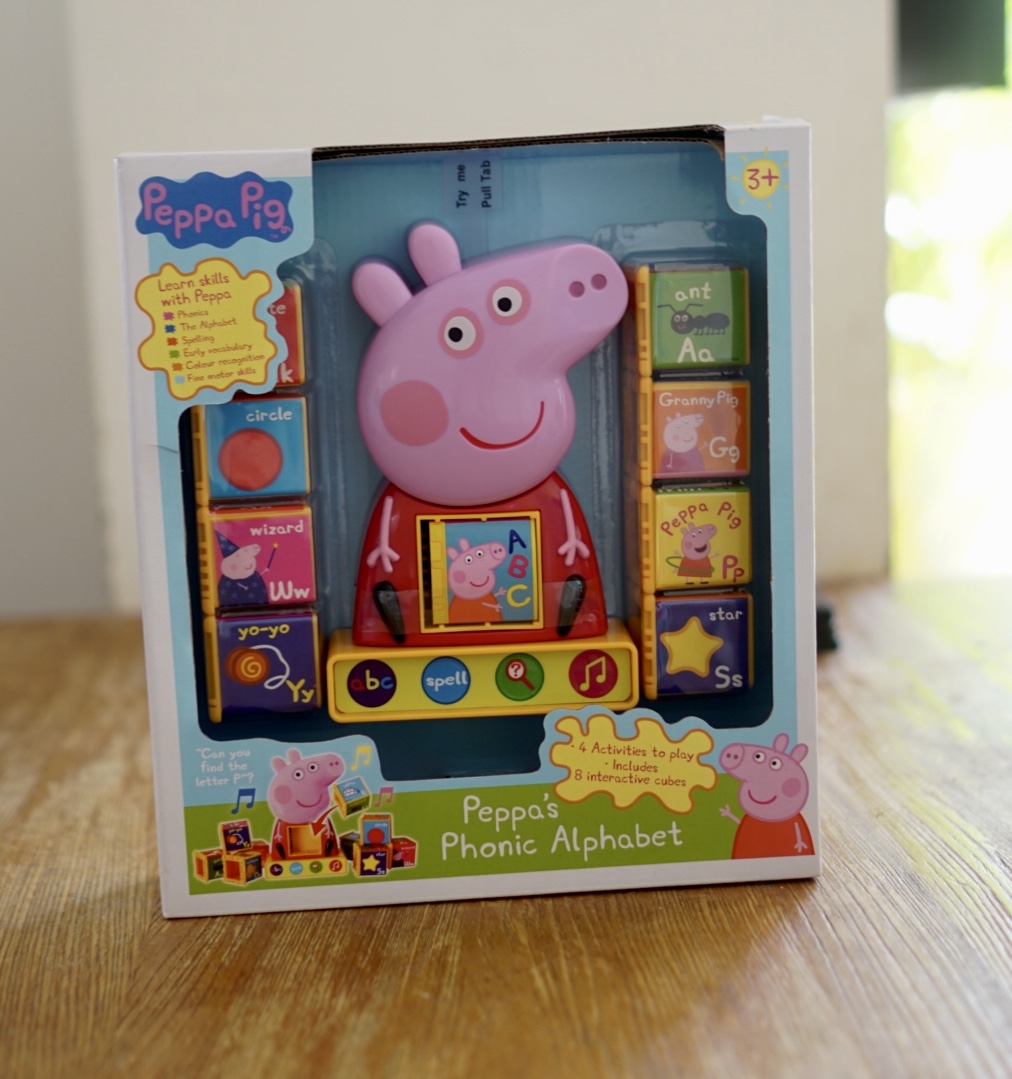 There are 4 different activity settings on Peppa Pig for your child to choose from. ABC, Spell option, a Quiz and Sing a long activity. Peppa will then ask a question depending on which activity you have chosen and you child then needs to find the correct answer on the cube and place in it Peppa's tummy. Peppa will then confirm if the answer is correct. The familiar voice from Peppa made Alfie very excited. If you answer the correct answer Peppa will also respond with a well done much to Alfie's delight.
This toy is great for teaching phonics. Learning the alphabet. Spelling, identifying colours and also fine motor skills. More importantly your child is having fun all whilst doing this.
I remember my girls both receiving the Peppa's Flip & Learn Phone for Christmas of my Auntie one year and they both absolutely loved it (despite there being a 3 year age gap between them). Aimed at ages 18 months + the phone is Peppa pig pink with a 3D Peppa on the front. Inside the phone you can the find the numbers which all make a beep noise when pressed. There is a play camera button which you can hear Peppa's voice. A star button on the phone plays different animal sounds which I love as toddlers love learning animal sounds. There is also a button to make the phone ring and also a button to play the Peppa theme tune.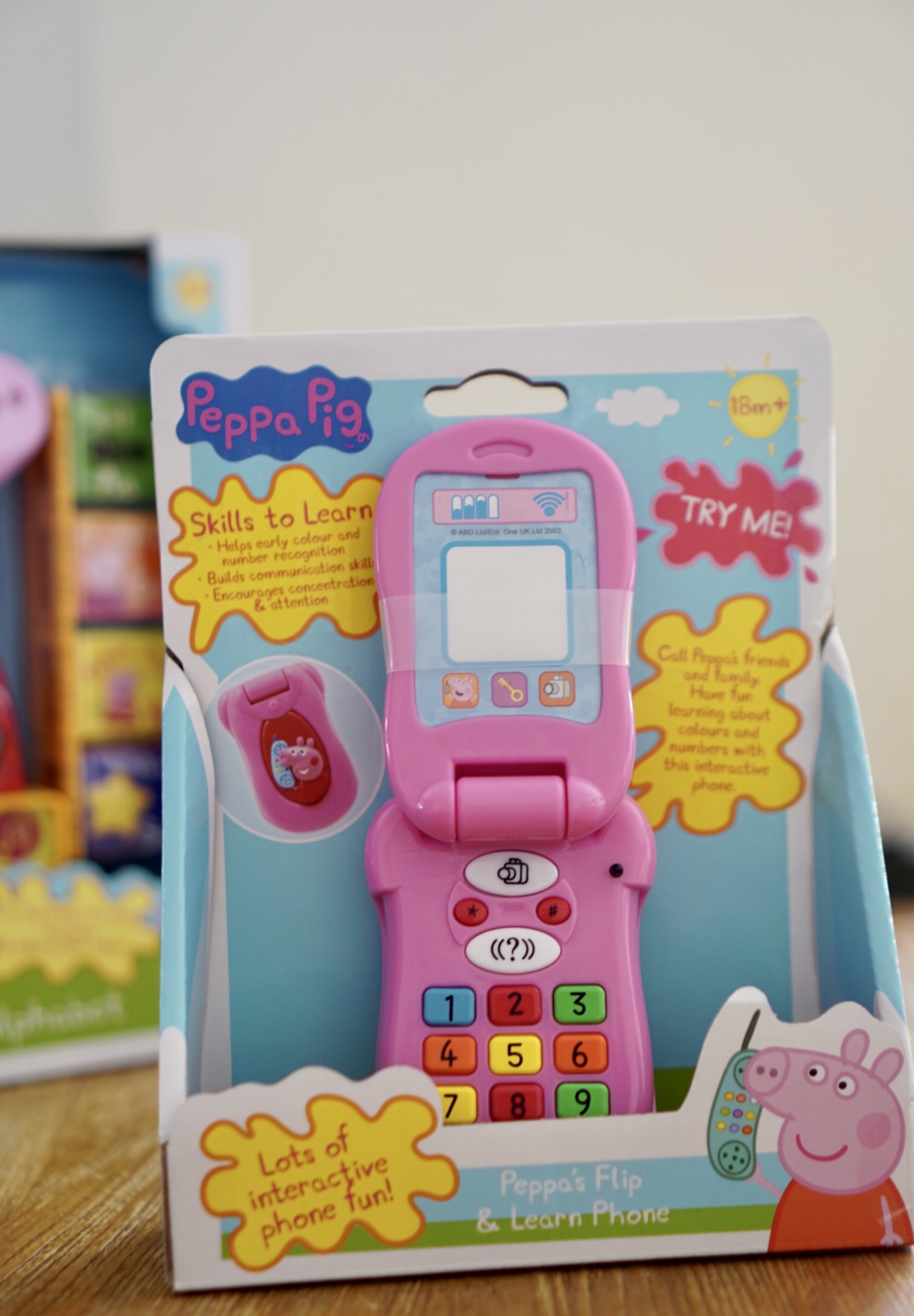 This is a great gift for a 18 month old (and older). It encourages them to role play, builds communication and also starts to allow them to recognise sounds, numbers and colours.
I should also add this product is part of the Argos 2 for £15 which is an absolute bargain.
Count with Peppa has been a favourite with Alfie. You receive 10 interactive play coins. Peppa will ask your child to identify the coins by colour or numbers and then you insert them into her purse. Like the other Peppa Pig learning toys it has the familiar Peppa voice and songs which Alfie loves.  I remember Harri having a similar toy when she was younger and she loved counting the coins and posting them through the slot. Children seem to love toys like this.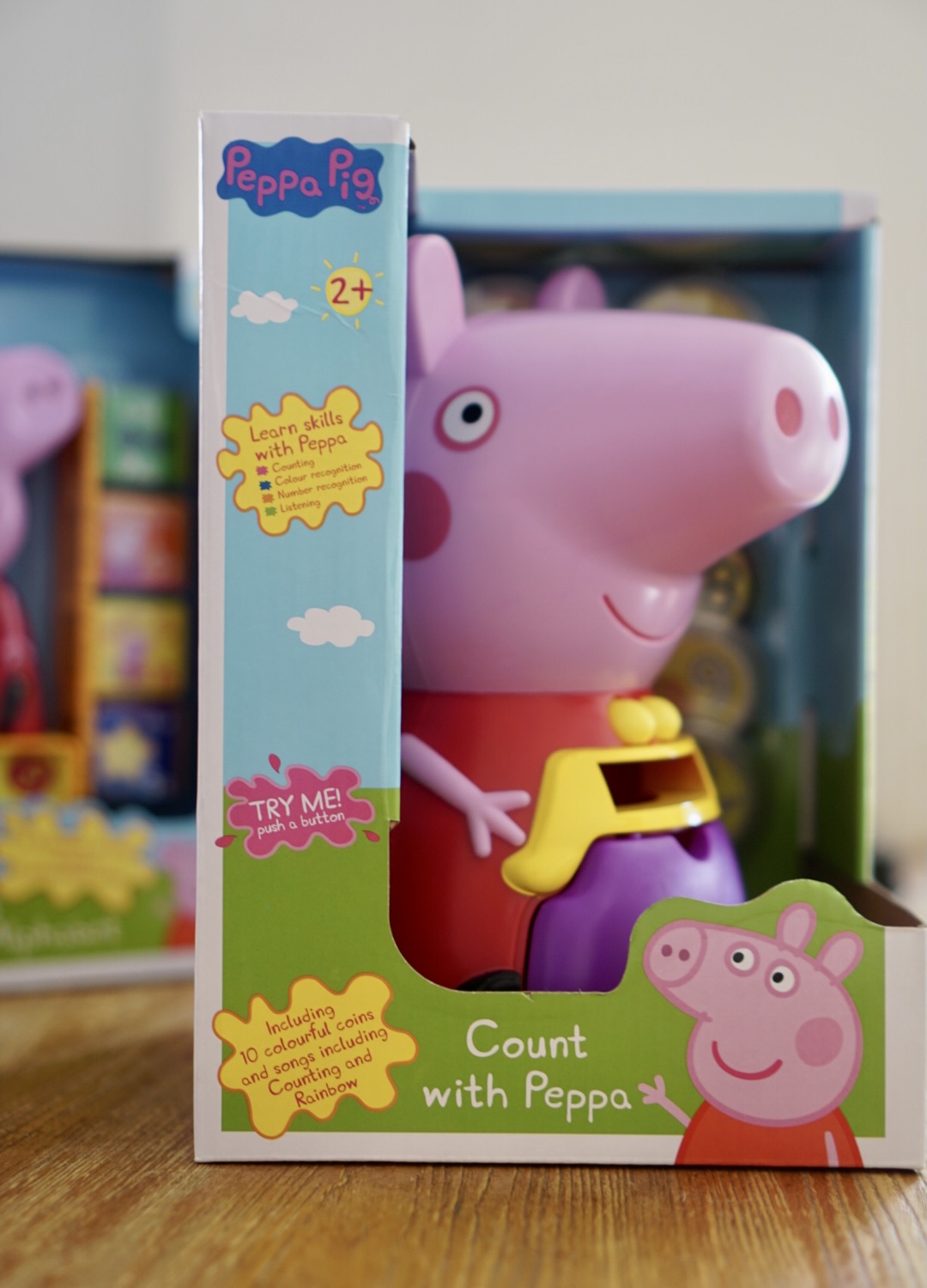 This toy is great for counting to 10, recognising colours and numbers and listening to instructions.
Some great learning toys for toddlers, preschoolers and even reception aged children. All these toys are available from Argos and they are the perfect way to encourage your child to #LearnwithPeppa
These products have been sent to me in exchange for a honest review.