As you know I am a huge advocate for learning through play, especially role play. As a Mummy of three I can see how much more my children learn when they are playing. A good example of this is during lockdown we always played shops. We have real snacks and real food, throughout the day when my children are hungry they come to the shop and buy some food. They see it as such a fun game. I see it as a learning experience. They are working on their communication and language skills. Their number recognition, identifying currency, arithmetic. My older children are also practicing reading and writing skills. Role play really enhances their learning in a fun and relaxed way.
I love the Henry & Hetty toys and was so excited to be sent the Henry Vacuum and Cleaning Trolley to review. Let's face it the Henry Vacuum is so cute any child would be delighted to play with it. I also thought it would be a great opportunity to help the children understand the importance of helping Mummy & Daddy clean up around the house.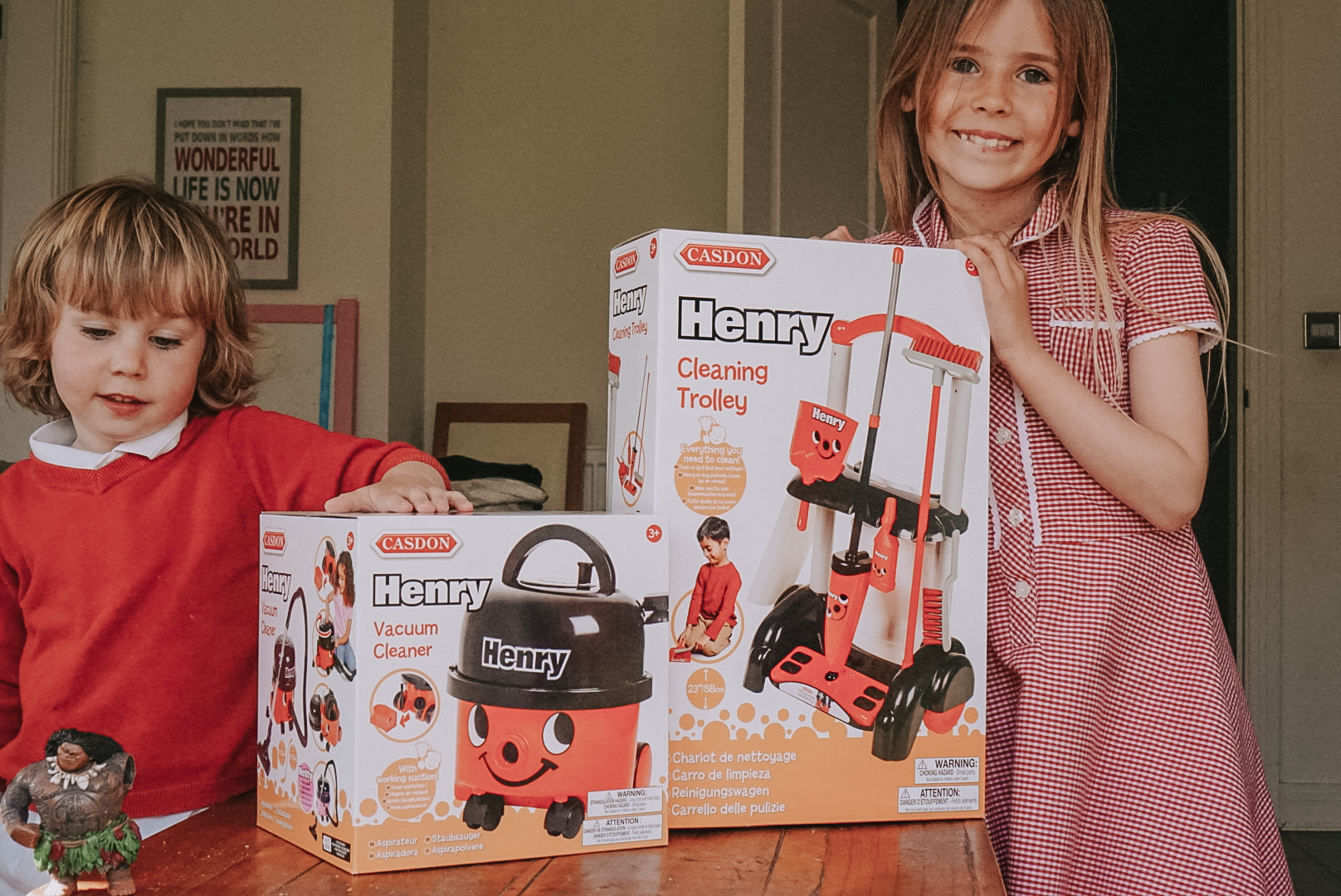 The Henry Vacuum
This was without a doubt a huge hit in our house. My Children love to play together which I obviously encourage as much as possible. My eldest Meme is ten and I am finding her being drawn to screens more and more. I love it when opportunities arise which grab her attention and she play with her siblings who are 7 and 4. Meme also has such a great imagination and my younger kids love it when she get involved.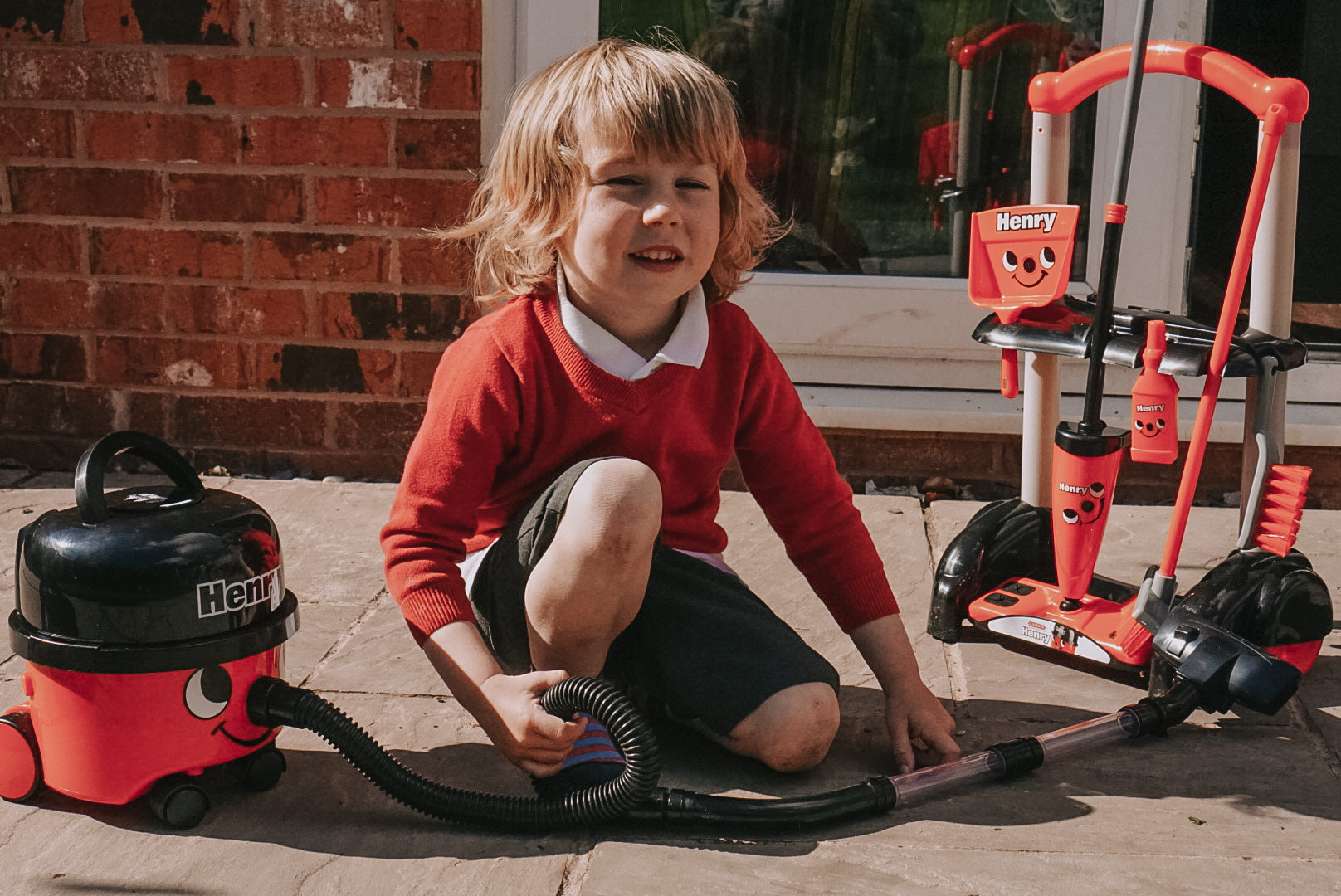 My Children have been playing hotels quite a bit with the Henry Vacuum each taking it in turn to being the cleaner. The Henry vacuum is really compact with wheels allowing the children to move it around the floor with ease. The head comes away and all the accessories are stored inside. My kids do struggle to get the head back on themselves although this will probably just take a little bit of practice. The cord also winds up nice and easy, something the kids love doing themselves.
I think the best bit of the Henry Vacuum is that is actually has a working suction that picks up small bits of paper and waste. It also makes the vacuum like noise so you can clean around the floor just like Mummy and Daddy. Alfie and the girls absolutely loved this. I was sent to the shop straight away to buy batteries so we could start using it. It is lots of fun and created hours of play for my children.
The Cleaning Trolley.
Complimenting the children's game perfectly is the cleaning trolley. The trolley includes a cloth mop, a brush, a hand brush, a dust pan, bottle of cleaner (not real obviously!) and a dust bag. The trolley includes stickers to put the iconic Henry smile on all of the accessories. Like the Henry vacuum it also comes with wheels so it can be moved easily from room to room.
Having laminate floors in our kitchen we brush up at lot and Alfie now loves to brush up alongside me which is so cute and also allows me to get some cleaning done as now he can join in.
I think one thing I would comment on is that we haven't quite the knack of securing the accessories back on the trolley which can be annoying as they some to come of the trolley quite easily. That said, Alfie really enjoys playing with this so it's well loved.
AD – The Henry Vacuum and Cleaning Trolley have been sent to us in exchange for a honest review.