There's an age-old problem we all face every single day: what should I wear?
There's something I need to confess; I have an entire wardrobe of clothing but cannot seem to find anything to wear when I'm in a rush! Being a mum, I seem to spend more time focusing on what the kids are wearing rather than myself. As somebody who loves fashion, I feel my best when I look my best. This is why it was so important for me to be able to find a way to look good no matter how much time I have to get ready.
The good news is I've found the secret to looking good no matter how little time you have in the morning. The secret is dress alterations! If you have a few wardrobe staples that are tailored for your body, it makes the world of a difference. Throwing on an outfit that looks slouchy can make you feel rushed and unready. When your clothes fit faultlessly, it improves your attitude. Move out the way everyone, here comes a sophisticated, organised woman ready to take on the day!
Of course, I'm not suggesting you get every item of clothing you own tailored. You just need a few wardrobe staples, pieces that can be altered, then you're pretty much set for a successful wardrobe. I've put together a list of a few essential items you can get altered to give you that dressed up, ready to go look even when you have no time for yourself.
Essential Wardrobe Staples
Fitted business dress
The first staple outfit you need in your wardrobe is a tailored business dress that makes you feel like a professional, powerful woman. Nothing will make you feel more like conquering the world than a dress that you can slip straight on and feel ready to go in. Dress alterations can turn a simple, irregular fitted high-street dress into an elevated outfit. You can look like you spent hours getting ready and planning your outfit when really, it's down to great dress alterations!
Perfect pair of jeans
Jeans. Now that is a complicated item of clothing, but also an essential to all our wardrobes. The perfect pair of jeans will leave you feeling great, hugging your body for a perky bum and cheerful attitude. The problem we all have is finding a pair that fit us perfectly to give us this feeling. All our bodies are uniquely beautiful. It's close to impossible to find a pair on the high street that are tailored to you. Some slight dress alterations, whether it be shortening the leg or changing the width, can really define how you look and feel in your jeans.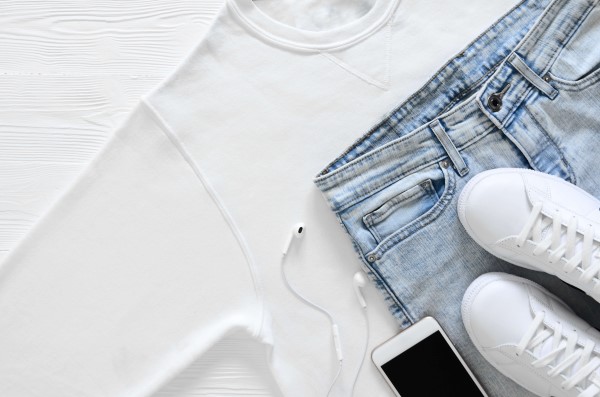 Tailored trousers
Trousers and a top, the perfect recipe for a simple, put together outfit. When you're searching for an item that will make you look like you've dressed to impress, even though you have no time, a bold pair of trousers are what you need. Matched with a simple top, they bring all the attention to your interesting trousers, distracting from anything you've missed while getting ready in a rush. The fit of them is essential, especially when it comes to length. Once that is sorted, these trousers will be your go to when getting ready in a hurry.
Shortened shirt
Shirts are a great staple piece to match up with your jeans for a complete outfit. When the sleeves are too long on your shirts, you have to fuss around trying to fold them to look like they naturally fall that way. This is tricky even for those who aren't in a rush, never mind those of us who have no time! You can end up with a lopsided look, which is not what we were going for. A simple shortening of the sleeves can give you a tidy look without having to roll the end of your sleeves up countless times. This is a great way to dress well when you have a limited amount of time.
Fitted flares
Flares are back! Nothing screams 2018 fashion more than taking it back to the 70's with some stylish flared trousers. You can dress them up or down, making them a great versatile piece. Flares generally come in quite long lengths, making it tricky if you're wanting to wear them in day to day life but prefer flats to heels. A simple dress alteration can fix this – taking them to a professional tailor so they fall at the exact length you need. Sophisticated and stylish, people will believe you had all the time in the world to get ready.
Blazer
A blazer can take any outfit you are wearing and make you look ready to take on anything. There are many aspects to making sure a blazer fits you, giving you that real empowered woman look. Sleeve length, the fit on your waist and the amount of padding on your shoulders all contribute to a perfectly fitted blazer. With these dress alterations, you can throw your blazer on top of almost anything and look like a chic business woman who got ready with time to spare. It is amazing what a little bit of stitching can do to your outfit, and your confidence.
Let your clothes do the work for you with dress alterations!
Take on this top tip to give yourself that effortlessly prepared for the day look from your outfits. Life is busy, especially when you have little ones running around who you need to look after. It can be hard to have time to yourself to truly make sure you feel good in what you're wearing. This easy trick can help you feel your best even when you're running out the door with one shoe on.
What are your wardrobe staples?
This is a collaboration post