Are you ready to feel a little nostalgic?
Pound Puppies, the must have toy from the 80's has been re-released. Now you can relive your childhood with your favourite pet. I always remember me and my Sisters taking our pound puppies everywhere with us. Me and my eldest Sister had a grey one and my younger had a brown one. They were our best friends.
Introducing Pound Puppies 2020
It is lovely to watch my children play with Pound Puppies. It is like taking a glimpse to back in time. There are 2 different Pound Puppies available. The classic Pound Puppy (there are 4 of these to collect) and the newborn. The Classic Pound Puppy arrives in a kennel like box and includes a sticker sheet, a name tag and a adoption certificate whilst the newborn puppy also comes with an adoption certificate.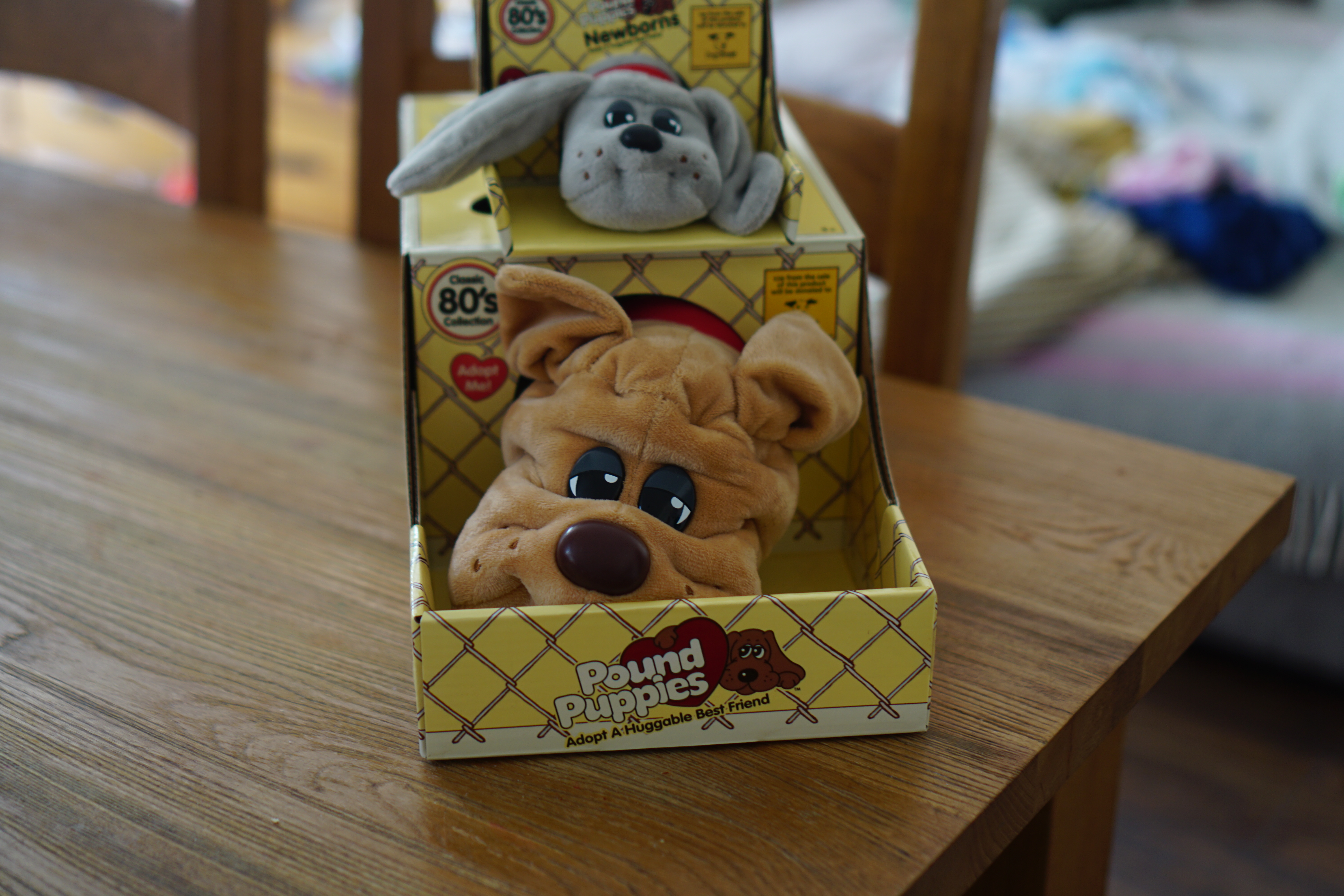 We received a classic puppy in brown which was 17inches and newborn one in grey which was 8 inches.I must admit they are as cute and cuddly as I remember – with hard eyes and a hard nose but big floppy ears and even bigger smile its hard not to fall in love with them.  It is great to explain to my girls that these are rescue dogs. We had a lovely chat about there being many wonderful pets out there, that have been rescued and are looking for new home. These beautiful Pound Puppies needs love and looking after like so many dogs out there.
It is worth mentioning that Pound Puppies are affiliated with Dogs Trust. If you are not familiar with Dogs Trust it is the largest dog welfare charity, rehoming around 14,300 dogs every year, which is just amazing. If you're still not convinced about buying a Pound Puppy then you should know that for every one sold Basic Fun will make a donation to Dogs Trust!
A pet for life
We had so much fun playing with these cuddly toys. My eldest even takes her to the beach so her Pound Puppy can play amongst other dogs.
The Classic Pound Puppies are available from Smyths and you can purchase both the Classic and Newborn Puppies from amazon 
We have received 2 Pound Puppies in exchange for a honest review.