Winter wardrobe in need of a bit of a refresh? There's nothing like reviving your party wear collection to make you feel inspired for getting dressed up and getting out there. Whether you've got a few exciting events penned in the calendar, or you're simply getting organised and planning ahead by building out your evening wear collection, the right party dresses can make all the difference when that special day or night rolls around. Here's a few styles to spark your styling…
Unique Cut Outs
There are so many ways to get playful with cut out style dresses. Look for something unique with carved cut outs at the neckline, waist or back for a dynamic, contemporary take on evening wear. This is a strong, bold look so hunt for simple cotton, crepe or satin materials to let the structure of your cut out dress take centre stage.
Statement mini
Mini dresses are the perfect cut for something a little stronger in the style department. The cropped length takes away from some of the formalities and adds to the fun, party vibe you're going for. Look for ruffled layers, bright tones, off the shoulder accents or – for the real lover of all things statement – a feathered mini dress. This is a great way to show your personality with something playful, so lean into the feel and go full impact with a hot pink, lilac or bright blue to stand out from the crowd at your next event.
Waist accents
Look for a ruched or cut out waist to find a dress that's both unexpected and elegant. Paired with a one shoulder or simple neckline, this cut brings all the balance of a feminine silhouette – making it a perfectly universal option for all shapes, sizes and style preferences out there. You can go for a midi or maxi length here for an elongated frame, with minimal accessories needed. Perfect if you want to pull on your party dress and be ready to go in a matter of moments.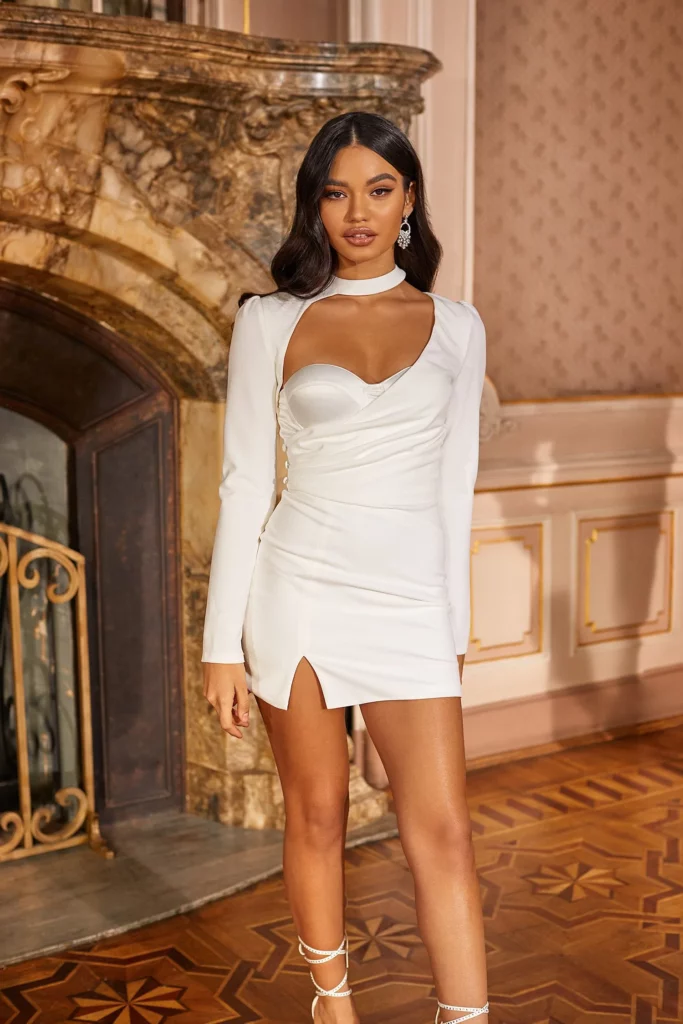 Creative necklines
Your neckline is also a great spot to focus on when you're looking for the perfect party dress. A style refresh means experimenting with the unexpected, so why not try out a high neck cut out silhouette the next time you invest in a mini? This brings a touch of vintage and contemporary style all at once, and really shakes up the more simple, timeless silhouettes out there.
High neck jumpsuit
A jumpsuit is a beautiful option if you want to go for maximum comfort, and for something that little bit out of the box for an evening event. A high neck jumpsuit style will really emphasise your vertical line, making you look elongated and amazingly elegant. Plus, it's an entire outfit in a few seconds which is always a plus. Look for a delicate white lace for a fresh, feminine feel that layers beautifully beneath leather jackets and plays well with creative accessories like headbands, felt hats or chunky earrings.
Co-ord
Lastly, if you want to skip out on tradition entirely you can always shop for a co-ord outfit instead. Worn together, this is going to look like a masterfully curated evening look that shows off your waist. You can also wear separately with chunky knits, dress pants or denim if you want to make your party wear work hard all year round, to a tonne of different occasions.

Which of these creative party looks are going to add a little cheer to your wardrobe this season?
This is a collaboration post