If you have recently decided to look into luxury vinyl flooring for the home, you have probably browsed options of styles that are available but may not have made the choice between where they are suited for.
Many retailers will try to sell you on the fact that both planks and tiles are equally suitable. But which rooms are the ideal ones for Karndean Click vinyl flooring? Let's look into where people tend to get the most satisfaction from Karndean vinyl to help you discover the possibilities.
Living Room
In most homes, the living room has a wood effect flooring style – especially if it sees a lot of natural light.
Light wood designs tend to be chosen to provide a breezy atmosphere to the room, layering a back to nature thinking which enlightens the room when the sun breaks through blinds or curtains. 
The choice of dark wood vinyl provides equally impressive reflective qualities during the day and at night. Nothing looks better than the look of a fireplace reflected on a dark wood floor, perfect for those relaxing late evenings.
Kitchen
The requisite look for the kitchens today is one of the stone-styled tiles such as slate or charcoal.
The kitchen is the room that sees high foot traffic daily, especially those kitchens that connect to back gardens. Even the most durable flooring can take a severe hammering whether it's footsteps, water, or food. The benefit of choosing a stone effect is complimented by your graphite worktops and although it perfectly replicates the stone look, it is very comfortable underfoot and provides a more cushioned appearance.
Bathroom
The Bathroom offers a ton of potential for design from Karndean click vinyl flooring.
Whether you want to keep it full porcelain look to match the fixtures, a wooden plank for a natural feel or black tile for a corporate feel, you have plenty of choices. A bonus when it comes to room moisture, you won't be replacing any sections any time soon due to its moisture resistance. 
The slip resistance and waterproof layers also are a huge deciding factor that ensures care is taken when you want to enjoy a little time for yourself.
Bedroom
The bedroom doesn't necessarily need carpet to be comfortable. Many families prefer a plank effect in their room more than any time prior.
Underfloor heating means that vinyl is your perfect partner, making the room snug as well as cosy all day and night. Having this flooring in your children's bedroom is a great option due to the durability and easy clean options that will help you in the long run as they grow.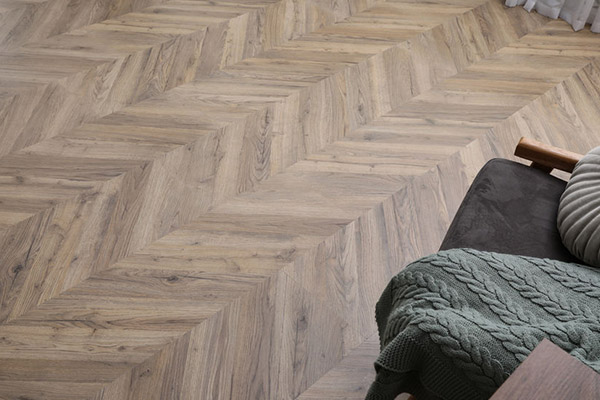 As you can see there is plenty of scope in choosing between plank and tile in luxury vinyl flooring.
This is a collaboration post