My girls are incredibly lucky to be sent quite a few toys for us to review. Every kids dream hey? We generally like all they toys that have been sent to us, in fact I can't think of one that my girls haven't enjoyed playing with. However I do always remember the ones they love. The toys that come out to be played with over and over again. The ones that I find in my handbag because they want to play with them when they are out and about – Off The Hook Dolls are one of these toys.
We received some on Boxing day as part of a Instagram campaign and my girls really enjoyed them so when we got the chance to review them they were delighted to add more to the collection. There are six dolls to collect Meet Mila, Jenni, Vivian, Alexis, Naia, and Brooklyn and each doll can be styled exactly how you want them to. You can change their hair, their outfits, their accessories and even their shoes. You can collect up over 100 different looks and accessories. Each pack also includes a bling bag with a surprise in – like a cute handbag or hair bow. You can dress them in whatever style you like, going to party add a sparkly skirt to their outfit, going to a concert add some cool rock start boots.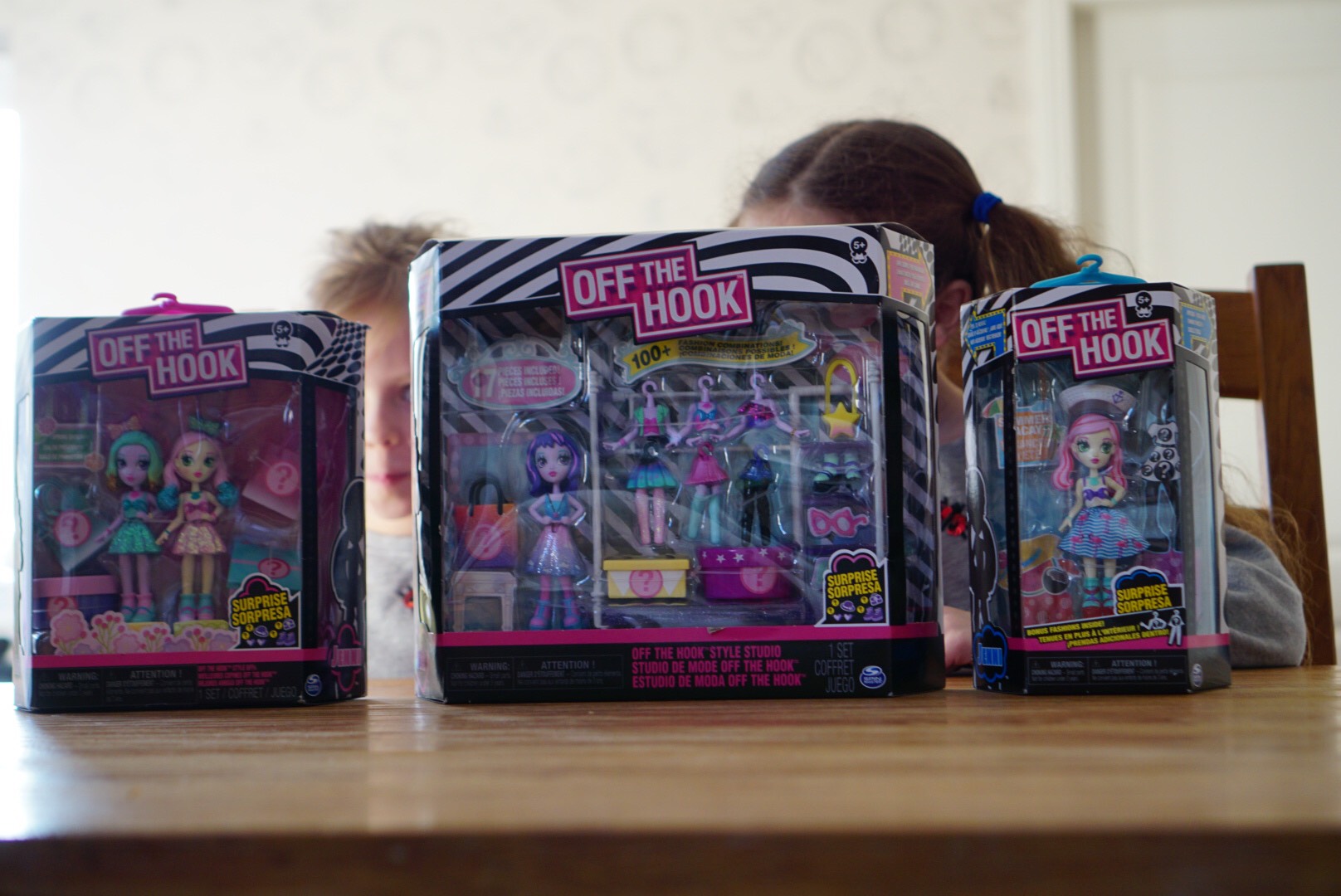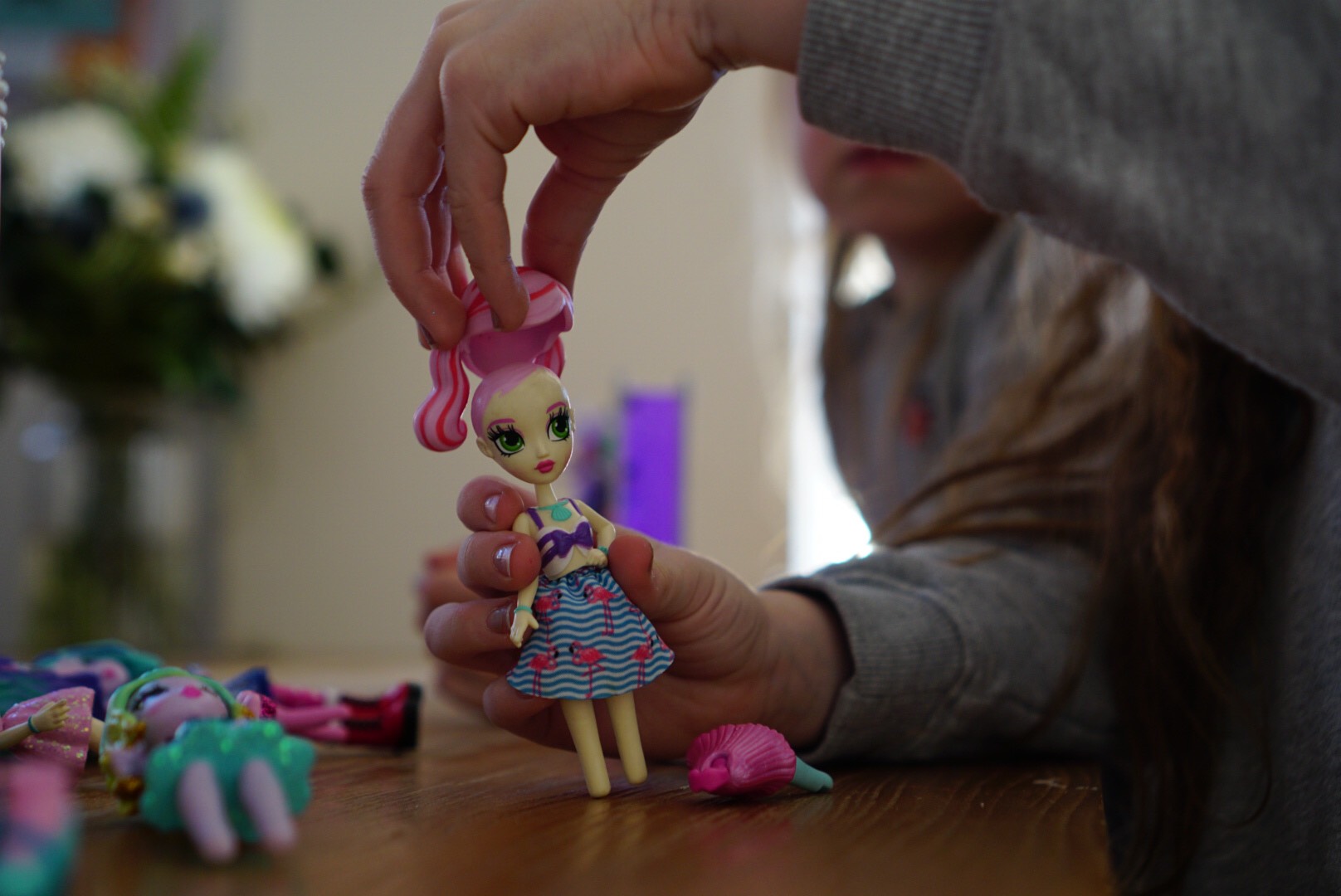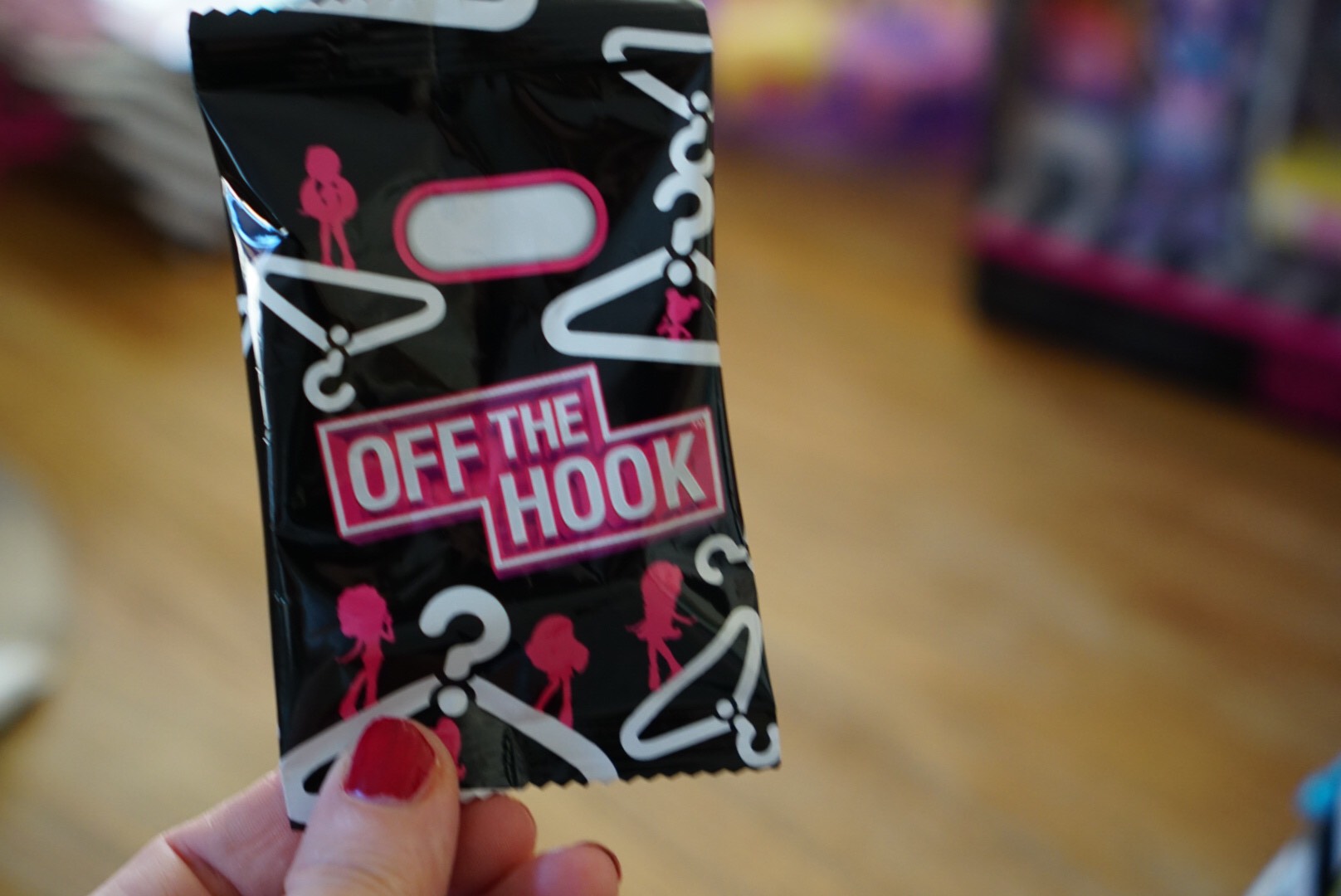 We were also sent the Off The Hook Style Studio Fashion Fun Playset which is a open rack clothes boutique to hang all your cool outfits with shelves to showcase your accessories and shoes. This is so cool and my girls spent hours playing together, I always remember playing shops with my Sisters when we were younger although we had to just hang our clothes around the room and pretend. I would of loved this playset. Such a good way of watching you children use their imaginations, play together and showcase their own unique styles. As you can see below Harri is still very much girly in pink sequins whilst Meme is a bit more rock chick, she wants to stand out and be cool.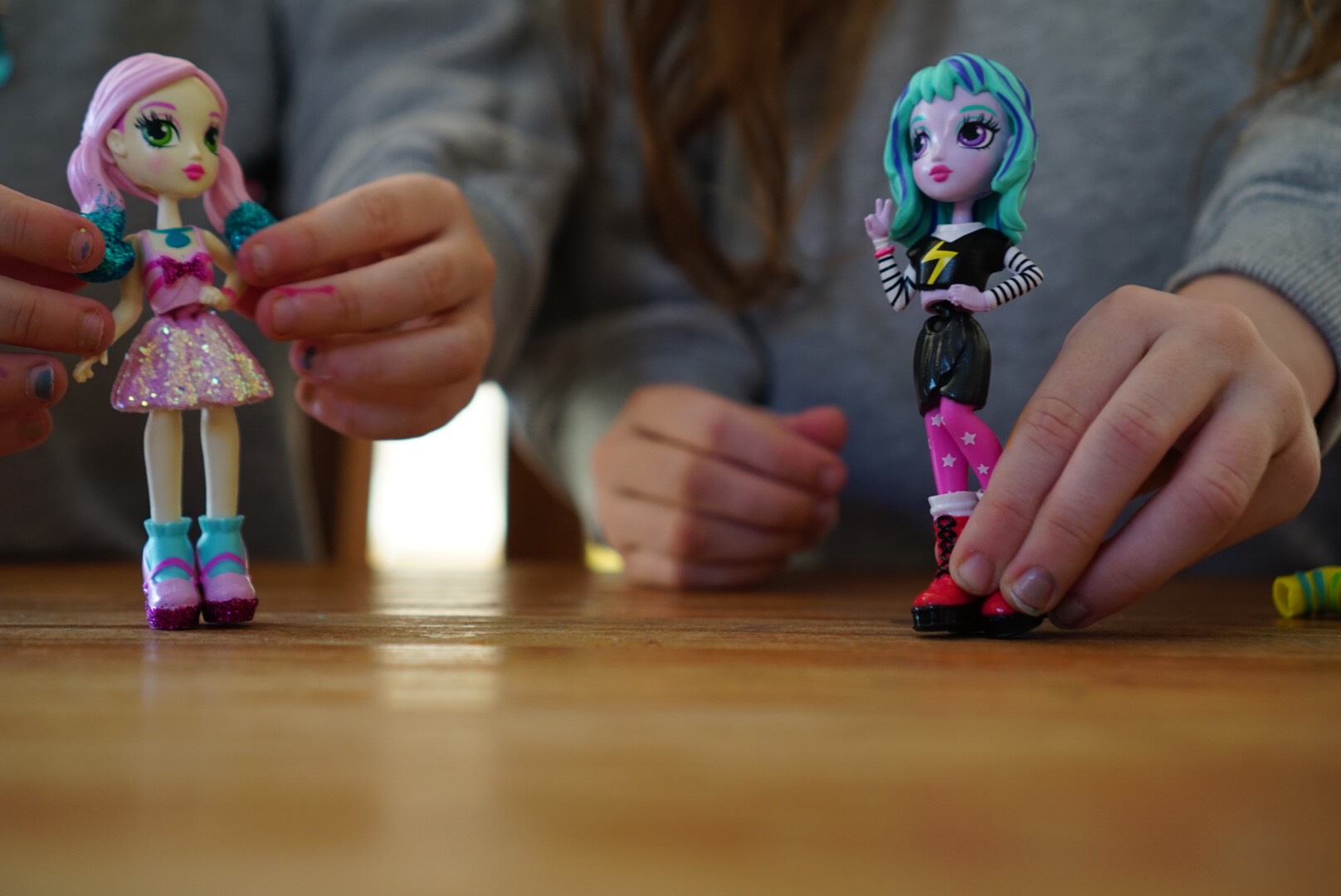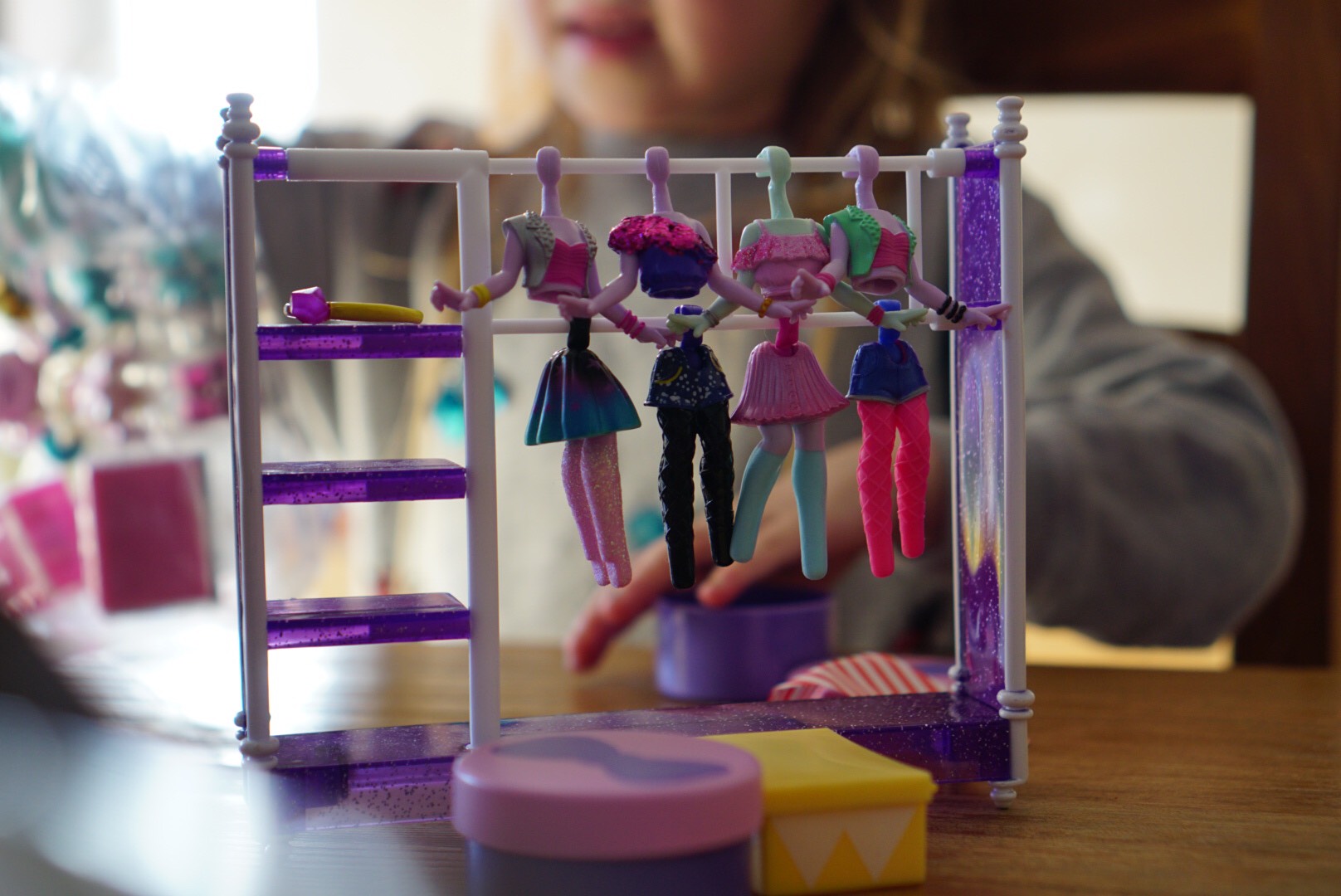 We have loved these dolls, what I also like is the price. There are different sets you can get so the Off The Hook Style Studio playset costs £19.99 which is perfect for a birthday gift or special treat whilst the single pack which includes 1 doll, 1 bonus top, 1 bonus bottom and  1 look book costs just £7.99 so I know Meme can spend her pocket money on a new one.
We were sent these Off The Hook Products in exchange for a honest review, we absolutely love them!!